Posted on
Mon, Jul 11, 2011 : 5:56 a.m.
Entrepreneur opens new pharmacy at Saline retail center
By Laura Blodgett
An Ann Arbor entrepreneur recently opened a new pharmacy at the corner of Ann Arbor Street and Bennett Street, a few blocks north of downtown Saline.
It's the latest in a series of pharmacies that have operated out of the 1,800-square-foot neighborhood space at 75 E. Bennett St. in Saline over the last 25 years.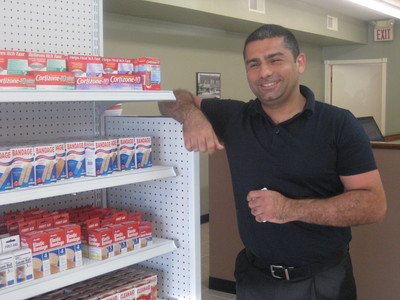 Laura Blodgett | For AnnArbor.com
"I wanted to open my own business that caters to the community's needs," said Ann Arbor resident and pharmacist
Ziad Ghamraoui
, who owns the new store, called
Saline Pharmacy
. "I think this community needs a local hometown pharmacy."
The building housing the pharmacy was once operated as a pharmacy and a party store. But several years ago the pharmacy and party store were split into two entities. Since then, Arbor Drugs, Freedom Apothecary and, for the last seven or eight years, the Medicine Shoppe have operated pharmacies there.
The Medicine Shoppe closed a year ago after its sale to CVS — but the space had to remain closed for a year as part of the deal, said Sal Basha, who bought the Saline pharmacy building three years ago.
After the one-year period expired, Basha always intended to reopen a pharmacy in the space.
"If this hadn't come along, I would have opened one myself. The location has always been very successful for a pharmacy," he said.
Ghamraoui said he would spend more time on each customer who walks through the door. He also said he would guarantee that if the pharmacy doesn't have a medicine in stock, it'll be there the next business day.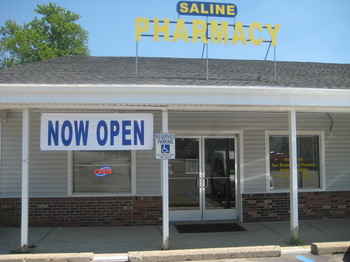 Laura Blodgett | For AnnArbor.com
"I want to keep the pharmacy old school — not where you buy nicotine patches and cholesterol medicine in the back and then cigarettes and candy bars up front," he said.
The pharmacy, which opened about a month ago, sells over-the-counter drugs and plans to do on-site drug-compounding. He said he ultimately hopes to become the pharmacy of choice senior care facilities in the area.
Ghamraoui and another technician are the only employees for now. He said he picked the Saline spot for its proximity to St. Joseph Mercy Hospital in Saline, local doctors and residential neighborhood.
"I was deciding between three locations in Saline. My friend and I drove around repeatedly considering traffic and what side of the road would be easier given traffic lights and turn signals. We decided this location was the easiest to pull into," he said.
Ghamraoui says business is going well, considering the space was closed for a year.
"The feedback we are getting is very welcoming and everyone is thanking us for opening. One patient even brought me a plant, I loved it," he said. Basha is also pleased with his new tenant. "l couldn't be happier. Business is improving for me, and my numbers keep going up," he said.
Laura Blodgett is a freelance reporter for AnnArbor.com.