Posted on
Thu, Jun 9, 2011 : 5:57 a.m.
Saline shopping center at Michigan Avenue and Industrial Drive faces retail vacancies
By Lizzy Alfs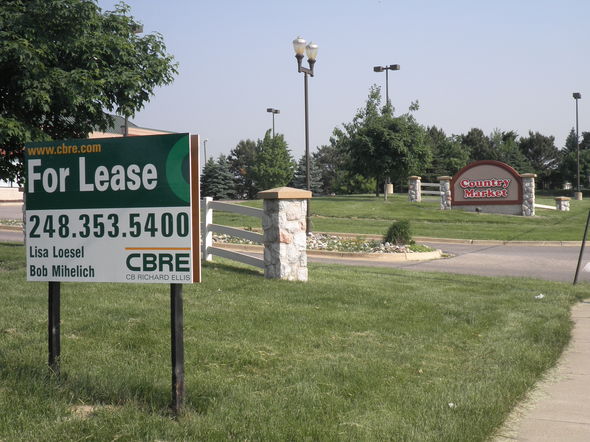 Lizzy Alfs | AnnArbor.com
The retail makeup of one of Saline's biggest shopping complexes is shifting quickly after two stores recently left and two others are facing significant challenges.
Recent changes in the Commons at Sauk Trail shopping complex at 1335 E. Michigan Ave. at the corner of Industrial Drive have left four storefronts empty.
Meanwhile, the 96,726-square-foot shopping center's anchor, the Country Market grocery store, is still trying to fend off competition from the new Walmart a mile to the east in Pittsfield Township. Country Market's owners report that the store incurred a $25,000 weekly loss in sales due to Walmart's opening in fall 2009.
And Blockbuster, which operates a video rental store at the complex, is downsizing in bankruptcy.
Among the recent changes at the shopping center:
— The Fashion Bug clothing store, Pack & Mail and the Flaming Shish restaurant closed or left.
— The Dollar Tree relocated to The Oaks shopping complex, which is less than a mile west on Michigan Avenue.
— A new ice cream shop is set to open in the coming weeks.
With several businesses moving out of the complex, four spaces are currently up for lease, said listing agent Bob Mihelich of CB Richard Ellis.
The annual asking rental rate for space in the complex is $12 per square foot, according to the listing. The owner of the complex is Ned Hakim of Investico Development Corporation. He declined to comment on the changes at the shopping center.
Mihelich said there are a few prospective new tenants for the complex, but that acquiring new tenants may involve moving existing ones to a different space in the complex to open up storefronts closer to the road.
"We are aggressively going after new tenants," Mihelich said. "We're trying to keep the current tenants that we have and move forward to try and lure people to the center."
Mihelich attributed the recent departures to general retail economics.
"Owners are seeking the lowest occupancy costs that are available to them today, whether it means moving across the street or to another location," Mihelich said. "Hence, landlords who cannot lower their occupancy costs are losing tenants."
Existing tenants at the Commons at Sauk Trail include Blockbuster, GNC, Wags to Whiskers Pet Supplies, Grondin's Hair Center, Tanfastic, AAA Insurance Agency, B B Nails, H&R Block, Country Market, Snap Fitness and Elite Cleaners.
Blockbuster's corporate future is tenuous. The company — which is cutting hundreds of stores, including its location on Plymouth Road in northern Ann Arbor — was recently sold in a bankruptcy auction to Dish Network. It's unclear whether the Saline store will survive the company's restructuring.
The Commons at Sauk Trail complex is not alone in fighting retail vacancies.
In The Oaks shopping center, where the Dollar Tree relocated three weeks ago, listing agent Bela Sipos of Reinhart Commercial said there are about four vacancies, depending on how he breaks up the building.
"This has taken a while to fill up," Sipos said. "I think this is an excellent location, but everywhere is having trouble right now."
Lizzy Alfs is a business reporter for AnnArbor.com. Reach her at 734-623-2584 or at lizzyalfs@annarbor.com. Follow her on Twitter at http://twitter.com/lizzyalfs.