Saline sues developer Concannon over unfinished downtown redevelopment
Posted on Thu, Aug 19, 2010 : 6 a.m.
Questions continue to circulate about the inactivity surrounding a years-old construction site near the heart of Saline's downtown that Michael Concannon once hoped to turn into a mixed-use development.
Now the city is suing him and the corporate entities behind Village Marketplace and Lofts to force the completion of demolition stage of the project and make repairs to city property.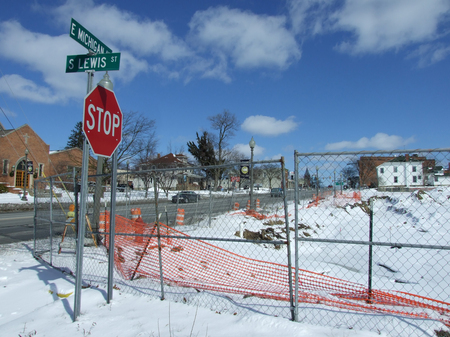 AnnArbor.com files
According to the lawsuit, filed July 28 in Washtenaw County Circuit Court, the property "is a continuing nuisance."
A note from Concannon to the city in February states that the lack of financing "effectively kills the project." It once called for 30 residences, retail space and below-grade parking in a 63,130-square-foot structure.
Concannon added in that note, cited in the lawsuit, that the best option appears to be "finishing the project to the status of a city park."
The 1.45-acre property along Michigan Avenue in downtown Saline is a former auto dealership and gas station. The parcel includes four separate lots, according to documents filed with the lawsuit.
Concannon acquired the property and obtained city approvals in 2007 to build the Village Marketplace and Lofts.
In late 2006, he received permits to demolish the structures on the property. Yet Concannon "failed to comply with the permit," according to the lawsuit.
The buildings and underground tanks were removed, "leaving a large hole in the land of varying depths," the lawsuit says. Temporary fencing was erected around the site, but the lawsuit says that damaged sidewalks, curbs and streets remain unrepaired.
The site plans for the development expired in February, and over the last year Concannon has been dealing with several other lawsuits surrounding his developments in Washtenaw County.
They include:
• A Washtenaw County Circuit Court judgment over an unpaid $26,000 landscaping bill that resulted in The Dakota Building on West Stadium being sent to auction in September to cover the debt.
• A lawsuit by Huntington National Bank over a $2 million debt tied to the purchase of the former Greek Orthodox church on North Main Street.
• A lawsuit by Fifth Third Bank over missed payments on $2.9 million loan on an office building on East Washington and house on East Huron that Concannon planned to redevelop into a high-rise.
City officials sought a remediation plan for the Village Marketplace by May 1, and asked the work to be completed by July 1. When that didn't happen, Saline City Council voted July 12 to move forward with the litigation.
City Manager Todd Campbell and city attorney Allan Grossman declined to comment for this story, as did Concannon.
The city seeks reimbursement for the $10,700 cost of a temporary sidewalk, in addition to a resolution to the zoning violations.