Posted on
Wed, Apr 14, 2010 : 3:15 p.m.
Saline's former Kelly's restaurant space to become Italian eatery after sale
By Nathan Bomey
The long-vacant downtown Saline restaurant property once operated as Kelly's and Saline Café will be revived later this year as a new Italian restaurant after the property was sold this morning.
Pete Toarmina, owner of Mickey's Dairy Twist on the western edge of the city of Saline, and five other family partners closed a deal this morning to buy the former Kelly's property.
The Toarmina family plans to renovate the 6,000-square-foot first-floor space and reopen it within three to six months as a family-friendly Italian restaurant with a new name.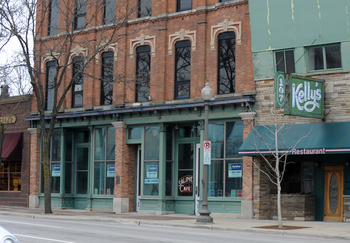 Lon Horwedel | AnnArbor.com
The transaction marks the culmination of a five-year effort to sell the property, which has been empty since Ann and Brad Beach closed Kelly's and the Saline Café in December 2004. Kelly's, the bar portion of the operation, and Saline Café shared a kitchen and were operated jointly.

Toarmina told AnnArbor.com today that the family ownership group had yet to settle on a name for the new space, in part because the deal came together in a matter of a few weeks. He said it was tempting to keep the Kelly's name because of its visibility on Michigan Avenue and the strong reputation of the former owners.
"It's almost a shame to change it," he said. "But you've got to make it your own. The atmosphere here is great. I really like the way it just has a 'Cheers' atmosphere, but we will be changing it to something that is more fresh and new."
Toarmina said the space is in excellent shape - so much so that it could open immediately if that was desirable. For example, linens and silverware were still neatly set on the tables, he said.
But he said the ownership group plans to refurbish the space, adding new fixtures, painting and installing new carpeting.

The family hopes to open the restaurant soon after receiving liquor license approval from the city and state, a process he expects to take up to six months. Pete Toarmina and his sisters Mary Sheko and Rose Tolson are partners on the new restaurant ,along with their spouses.
The storefront's revival will add sorely needed foot traffic to downtown Saline. It's the fourth restaurant downtown, joining Mac's Acadian Seafood Shack, Brecon Grille and Dan's Downtown Tavern.
"We're getting some walkable traffic, which is really good for our downtown," Saline Area Chamber of Commerce Executive Director Larry Osterling said.
Toarmina said the restaurant is not to be confused with Toarmina's Pizza, a small chain of restaurants in southeast Michigan that is owned by Toarmina's brother. He said his downtown Saline restaurant would offer Toarmina's brand pizza on its menu but that the restaurant itself would not be called Toarmina's Pizza.

Toarmina said the ownership group is also considering ways to offer Mickey's Dairy Twist brand ice cream at the downtown location.
But he emphasized that the Mickey's Dairy Twist on Michigan Avenue in western Saline - which he and his wife have owned for 16 years - would continue to operate as usual.
"It's a good, viable business," he said. "Mickey's is not going anywhere."
The ex-Kelly's space was listed by Ann Arbor-based Swisher Commercial agent Tony Caprarese on behalf of Ann and Brad Beach.

Ann Beach's parents, Herb and Joyce Gaudet. launched Kelly's in the early 1980s. Ann Beach, who was not available for comment, tried to market the facility for a few years on her own before hiring Swisher to market it.
Caprarese declined to reveal terms of the deal but said the listing price was $899,900 at one point several years ago. However, the price was gradually lowered over time - and in March the price was lowered to $399,900 for the property and $50,000 for the liquor license and equipment. That move induced a flood of interest, he said.
The deal includes 10,000 square feet of space on the second and third floors of the space (103, 105 and 107 W. Michigan Ave.).

"People look at it and become really enthusiastic about the perceived potential the upstairs space had for development purposes, whether it be commercial office or residential apartments or high-end condos, and ultimately the real estate was priced based on that perceived value," Caprarese said. "Basically we had to reposition the property and lower the sales price to reflect current market conditions and market the property based on the value of the usable space, which was basically the first floor."
Toarmina said, though, that he was optimistic that the upper-floor space could be renovated and repositioned for use by new tenants.
"We will be looking for tenants for the upper floors almost immediately," he said, adding that the upper-floor space isn't in bad shape.
Contact AnnArbor.com's Nathan Bomey at (734) 623-2587 or nathanbomey@annarbor.com or follow him on Twitter. You can also subscribe to AnnArbor.com Business Review's weekly e-newsletter or the upcoming breaking business news e-newsletter.