Posted on
Mon, Apr 12, 2010 : 1:10 p.m.
Saline's old R&B building targeted for potential sale
By Nathan Bomey
A manufacturing company in the Ann Arbor area is negotiating a deal to purchase the long-dormant R&B Machine Tool Co. building in downtown Saline, officials confirmed.
Thomas Fitzsimmons, part of the ownership group trying to sell the four-acre site, declined to reveal the name of the company that plans to acquire the R&B building. But he said it's a "local company that's looking to expand."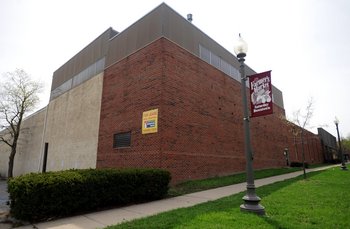 Melanie Maxwell | AnnArbor.com
The deal - which is still tentative - would be contingent upon approval of a tax abatement at the 62,000-square-foot facility.
The Saline City Council is expected to vote tonight on whether to establish an industrial development district at the site at 118 E. Michigan Ave., Saline City Manager Todd Campbell said. That's a precursor to allowing a company to apply for a tax abatement at the site.
"We're certainly supportive of new investment in the community, and we know that the buyers would be a good project if it worked out," Saline Mayor Gretchen Driskell said. "We want to work with them."
A house at 111 Henry Street - which is adjacent to the R&B facility - would also be part of the sale, Fitzsimmons said.
The R&B building, a hulking brick-box structure that marks the start of downtown Saline, has been vacant for about 10 years.

Fitzsimmons' ownership group acquired the site in 2002 with the intention of redeveloping it but ultimately settled for leasing parts of the building to small companies to harvest some revenue. He said the site was in surprisingly decent shape.

"It's an older industrial building built over several time periods. It's in really good shape," Fitzsimmons said.

Saline luminaries Edward Redies and Joseph Buhr established R&B in 1942 to take advantage of a windfall of military contracts during World War II. As recently as 1988, R&B Machine Tool Co. employed 220 workers at the facility, said Saline Area Historical Society Vice President Wayne Clements, who was referencing a news report from the organization's archives.
"That guy kept everybody working even in down times," former Saline City Administrator James Levleit said of Redies.
The R&B facility was a significant economic driver for downtown Saline for several decades - and its revival as a manufacturing facility could breathe life into downtown businesses.
"The possibilities are pretty spectacular if that entire building is filled," Saline Area Chamber of Commerce Executive Director Larry Osterling said. "The ideal thing, in the Garden of Eden (scenario), would be to have a retail complex. But if that building has to stay the way it is now, that's without a doubt the best use for us."
R&B Machine Tool Co. established an independent subsidiary called R&B Plastics Machinery in 1980 - and that company still operates in a Saline industrial park on Woodland Drive, where it employs nearly 50 workers.
But R&B Machine Tool Co. was sold in 1998 to Beverly Hills, Calif.-based supplier UNOVA Inc., which harvested R&B's $60 million in revenue and shuttered the Saline operation sometime after the acquisition.
The downtown building has served various purposes since then, including briefly serving as meeting space for the Saline City Council several years ago when the city was constructing its new City Hall building on Harris Street.

The largely vacant facility currently houses an accounting firm and a small auto equipment maker called Saline Manufacturing. Officials at the two companies that currently have operations at the R&B building could not be reached for comment.
The taxable value of the R&B building in 2009 was $704,807, according to Washtenaw County records. The taxable value of the Henry Street house also included in the deal is $67,000.

Contact AnnArbor.com's Nathan Bomey at (734) 623-2587 or nathanbomey@annarbor.com or follow him on Twitter. You can also subscribe to AnnArbor.com Business Review's weekly e-newsletter or the upcoming breaking business news e-newsletter.