Posted on
Fri, Oct 5, 2012 : 12:11 p.m.
Sam Zell on Detroit, unions and privatizing U-M: 'Survival of the fittest will prevail'
By Ben Freed
Sam Zell - a University of Michigan alumnus, billionaire real estate mogul and investor - said he would like to see U-M privatize.
He made that statement after giving the keynote address Friday morning at the Zell Lurie Institute's Private Equity conference at the Michigan Union.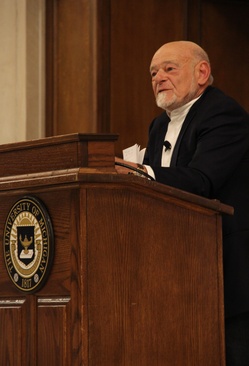 Ben Freed | AnnArbor.com
Driving his sentiment : Zell's concerns about the state of Michigan's economy, particularly amid global financial pressures, Detroit corruption, and the upcoming vote on Proposal 2.
"As a major contributor to the university, I worry about the state of Michigan all the time," he said.
"I mean, from my personal perspective, I'd rather have the university private. The fact that it's a state institution in a state that's at a crossroads is very scary particular to anyone who is making long-term contributions."
Zell did not offer any details on his proposed privatization of the university. Issues negating the probability of such a move by the U-M include the prospect of the losing state allocations which in 2010 accounted for 12 percent of the university's non-health system operating revenue.
In his address, Zell also was bearish on the state of the global economy, saying that the headwinds against investors were the strongest he'd ever seen in his lifetime.
"I can tell you this, no matter who gets elected 2013 is going to suck," he said to a crowd mostly made up of industry professionals with some U-M business students in the mix.
Zell went on to describe the various forces he sees working against economic growth. Number one on his list of trouble spots was the continent of Europe. When a conference attendee asked whether Zell thought the educated workforce in Europe would aid a potential recovery, he laughed and said that the Europeans had "learned not to work."
"If I look at all the options in the world, I can't image a place that would be closer to the bottom than Europe," he said.
If his outlook on Europe was bad, his views on the city of Detroit were not any better. After his speech, Zell said he would keep his money away from Detroit for the forseeable future.
"Detroit is a corrupt city, OK. It's as bad as the state of Illinois," he said.
"All of its CEOs keep ending up in jail. I don't know how, just like I don't know how in Illinois, you're going to get from here to there until you clean up the system."
Zell said electing Gov. Rick Snyder was a "terrific plus" for Michigan, but that the clean up job here is so large that even the Ann Arbor businessman-turned-governor's attempts have made little progress.
"Governor Snyder has attempted to do that [clean up the system] in Michigan, it hasn't worked," he said.
"Or at least it hasn't worked as fast as everyone would like it to work, but God forbid he wasn't trying. You had Jennifer Granholm and she didn't try and the state went straight south."
His strongest words were saved for Proposal 2 on the November ballot in Michigan. The proposal, known as the "Protect Our Jobs" proposal is the union-backed initiative to put collective bargaining rights into the state constitution.
"[It's] literally kamikaze. It's literally like driving a truck into a canyon at 200 miles per hour," he said.
"If that provision were passed, sell short on Michigan, get everything you can out of this state because it will be owned, lock, stock, and barrel, by people that can vote themselves raises."
Zell's official address ended with the playing of a song he sent out at the end of 2008 as part of his yearly holiday present to friends. The song, a parody of "The Ballad of Davy Crockett," was entitled "Survival of the Fittest."
Zell said he believes that this is a difficult time for business, but those that are able to innovate and keep up still have opportunities for success.
"I have a nickname, 'the Grave Dancer,' that reflects that I bought all kinds of stuff at the bottom of markets because I had confidence in the future," he said. "I think the headwinds we're looking at today challenge that confidence," he said. " I think we all have to adapt to the new set of circumstances, because, in the end, only the survival of the fittest will prevail."
Ben Freed covers business for AnnArbor.com. Reach him at 734-623-2528 or email him at benfreed@annarbor.com. Follow him on twitter @BFreedinA2