Posted on
Sat, Nov 27, 2010 : 6 a.m.
Satchel's BBQ to open on Washtenaw in Ann Arbor in early 2011
By Paula Gardner
A first-time restaurant operator chose a former retail space on the busy Washtenaw Avenue corridor near Huron Village for Ann Arbor's newest BBQ spot.
Satchel's BBQ should open in January, said owner Hugh Morgan of Ann Arbor. That depends on steady progress on extensive renovations needed to convert the space into a restaurant, he added.
The restaurant, located at 3035 Washtenaw, is the second in Washtenaw County to make news this month about starting a BBQ format. In early November, the new buyer of TC's Speakeasy in Ypsilanti outlined plans to convert it into the Red Rock Downtown Barbecue.
While that establishment will also offer live music and full bar, Satchell's is focusing on a simpler experience for customers, including carryout.
"My goal is to deliver Southern-style barbecue at a value price," Morgan said. "I want you to be able to go there very comfortably and feel like you've eaten good food."
Morgan describes himself as "a hillbilly by nature," who has catered events for up to 30 people just because he likes to make BBQ and people like it.
He has no restaurant-business background, but realized that his career in finance didn't hit his passion: BBQ in the Southern tradition, like where he grew up in Alabama.
"One day I came home and thought: There's a tremendous opportunity to have a good BBQ restaurant in this town," Morgan said.
That idea grew into a business plan over the past year, as Morgan researched the idea and what it would take - from the real estate to the health department requirements - to make it happen.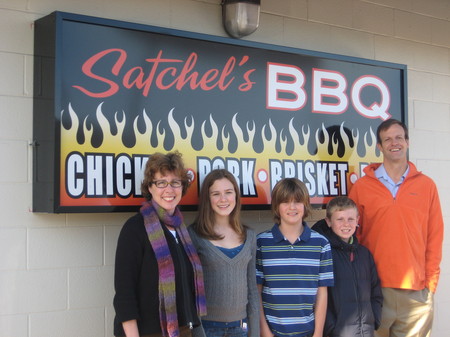 From Hugh Morgan
And as he dug further into the possibility, he "got more and more wedded to the idea."
The location came about because of the high traffic counts nearby - the intersection of Washtenaw and Huron Parkway, just to the east, is among one of the most-traveled areas in Washtenaw County.
The building he chose is occupied by a Verizon store across the front, leaving a 1,500-square-foot space on the east side the building.
That spot - visible from the entrance to Whole Foods - comes with some visibility challenges, Morgan said.
He put up the sign touting the new restaurant early this month, and now is working on his strategy to get people to slow down long enough to realize there's a reason to stop there.
"There's going to be a wood-burning BBQ smoker here," he said. "… There's something to catch your eye. It's not something you typically see."
The atmosphere will have a "simple, Southern-style BBQ feel," Morgan said. "… They don't overwhelm you with ambience."
The dining area will have a raised wood ceiling and casual décor, while prices will stay under $10 for the typical meal.
The restaurant will have counter service, instead of a waitstaff, with a condiment area for customers to customize their food.
Morgan said the effort will involve his entire family, including Alice, his wife; and kids Porter, Hugh and Spencer.
The next several weeks will be spent getting the space ready. By mid-December, he's hoping to hire 1 or 2 people to help run it.
As for the name, it's something he's used before: His dog shares the name Satchel.
"I just liked that name," he said. "I wanted it to sound like a name of a place you'd grab some BBQ."
Paula Gardner is Business News Director of AnnArbor.com. Contact her at 734-623-2586 or by email. Sign up for the weekly Business Review newsletter, distributed every Thursday, here.