Posted on
Fri, Dec 10, 2010 : 6:04 a.m.
Saturday's Big Chill hockey game could heat up sales for some Ann Arbor restaurants
By Janet Miller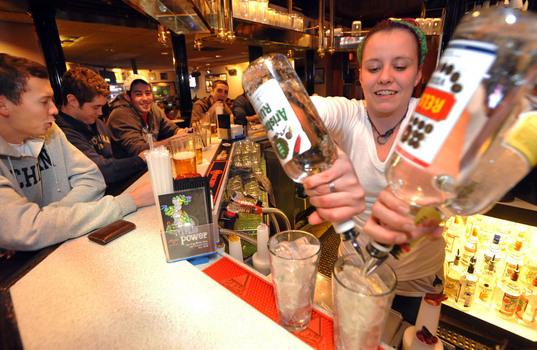 AnnArbor.com files
Will Saturday's Big Chill at the Big House bring in big bucks for area businesses? Or will it bring a big chill of another kind?
Ann Arbor bars, restaurants and other businesses don't know what to expect from Saturday's 3 p.m. sold-out hockey game at Michigan Stadium between the University of Michigan and Michigan State University.
They do know it is expected to be a historic event (largest attendance ever for a hockey game), and that it will bring out 110,000 fans.
Bars and restaurants are gearing up for a crowd, adding staff and stocking their pantries as if it were another football Saturday.
Mike Flore, owner of The Arena Sports Bar and Grill in downtown Ann Arbor, is firing up a half-dozen propane heaters and will host a first-ever tailgate outside of the U-M stadium with chili, pulled pork and other chill-chasing foods. It's a way to introduce the bar and grill to a new audience and lure them after the game is over, Flore said.
"We have a loyal football base, but we want to build a hockey fan base. This will be a new crowd, a different crowd."
Flore said he expects the Arena to be at capacity Saturday after the game, just like after a football game.
"During football Saturdays, we have to lock the doors for up to six hours when we turn away 100 to 200 people," Flore said. "I expect we'll have to lock the doors for at least a couple of hours this Saturday."
About the only thing that could dampen projections is rain, Flore said "But it's supposed to snow and be cold. People expect the cold."
Justin Herrick, owner of BTB Burrito on South State Street and BTB Cantina and Good Time Charley's, both on South University, isn't so sure. The cold could see fans rush home after the game to warm up.
Still, he's preparing for the size of a rush that comes from "a slow home football game" with extra staff at all three businesses. That would mean a 20 to 50 percent uptick in traffic, Herrick said.
Herrick and his staff have been debating the potential crowd for two weeks. His conclusion: It won't be as busy as a big football game.
"Hockey isn't football," he said. But facing cross-state rivals MSU adds interest and draws the Lansing crowd.
Conor O'Neill's on Main Street is preparing for a crowd, said General Manager Caroline Kaganov. They're added extra staff and opened up the Celtic Room, which is usually reserved for private events.
"We're preparing like it's a football Saturday," she said. "In this economy, it's a bonus for us."
And exactly how busy the pub gets depends, just like on football Saturdays, whether Michigan wins of loses, Kaganov said. A win always brings a bigger crowd.
For other local businesses, especially those close to the stadium, the hockey game could bring a different kind of freeze. Football Saturdays can hurt business as local shoppers stay home to avoid the crowds, said Dan Centurione, owner of Great Harvest Bread, located in the Woodland Plaza on the corner of Ann Arbor-Saline Road and South Main Street.
With Ann Arbor-Saline Road traffic re-routed only to travel south and Woodland Plaza parking lot entrances barricaded once a game lets out, traffic inside the store evaporates, Centurione said. In response, he bakes less bread on game days.
"On a usual Saturday, I'll make 90 loaves of asiago-pesto bread. On football days, I scale it back to 40 loaves, and even then I have a bigger than usual donation to Food Gatherers," he said. And he closes early on some football Saturdays.
Fans may stop in for a sweet or cup of soup, but not bread. "The likelihood of seeing someone carry a loaf of bread under their arm into the stadium is pretty remote," Centurione said.
But the Big Chill remains an unknown for Centurione. It's on the second Saturday before Christmas, usually a peak day. And many locals don't know about the hockey game and may go shopping unwittingly. He won't decide on Saturday's baking level until he sees what happens Friday. If Friday is a big day and people are stocking up, he'll make less for Saturday.
Still, Centurione isn't a killjoy. The games are good for Ann Arbor.
"They ding us a little bit, but it's not a big hurt. We adjust. Some of my crew are going to the hockey game," he said. "My wife and I like to partake in all the fun, too."
Janet Miller is a freelance writer and a frequent contributor to AnnArbor.com.