Posted on
Mon, Jan 9, 2012 : 10:46 a.m.
Say hello (again) to the Dodge Dart
By Nathan Bomey
Melanie Maxwell | AnnArbor.com
(For live updates from the Detroit auto show, click here.)
The resurrection of the Dodge Dart — which died a few decades ago — reflects a pivotal effort by Chrysler Group LLC to seize a piece of the U.S. compact car segment.
Chrysler today reintroduced the Dodge Dart in a press conference at the North American International Auto Show in Detroit.
Although Chrysler Group's U.S. sales rose 26.2 percent in 2011 — leading the industry — the automaker still faces a number of challenges, including the lack of a Dodge compact car to draw consumers into showrooms.
But the company, now majority owned by Italian automaker Fiat, believes the 2013 Dodge Dart will make a meaningful splash when it goes on sale in the second quarter of 2012.
"It will shatter consumers' perceptions of what a compact car is capable of," Dodge brand CEO Reid Bigland said. "It has the look, the style and the features to set it apart from anything else in its class. Quite simply, it's groundbreaking."
Dodge delivered perhaps one of the biggest surprises of the day by saying it would sell the Dart at a starting price of $15,995.
"There's no car that's this low" in the compact segment, Fiat and Chrysler CEO Sergio Marchionne told reporters.
The car, which is based on the architecture of Fiat's Alfa Romeo, will get average fuel economy of 40 miles per gallon when it's introduced, Bigland said. With five different model levels, 14 interior and trim combinations, 12 exterior covers and six wheel choices, the car is customizable in more than 100,000 ways, Bigland said.
The Dodge Dart faces steep competition, including hot brands like the Chevrolet Cruze and Hyundai Elantra, which won the North American Car of the Year award this morning.
Bigland said Dodge's lack of success in the compact car segment did not impede its design and engineering process.
"Some of you might think that not having a strong track record in North America of success in the compact car market (would) be a disadvantage, but candidly we were looking upon it as an asset because it has allowed us to approach the compact car segment with an open mind, a clean slate free of the segment's paradigms and the category's common wisdom," he said.
"We don't carry with us any of the baggage that has made compact cars visually and frankly kind of boring and bland."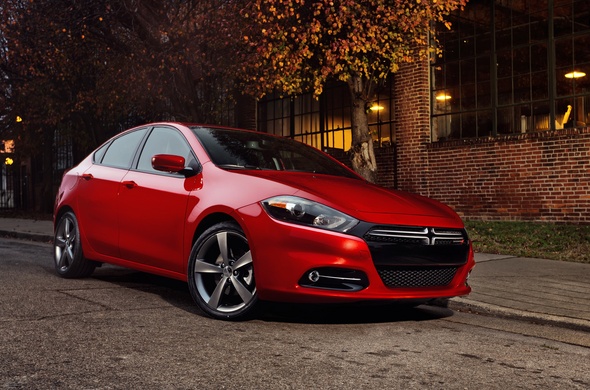 Photo courtesy of Chrysler
Contact AnnArbor.com's Nathan Bomey at (734) 623-2587 or nathanbomey@annarbor.com. You can also follow him on Twitter or subscribe to AnnArbor.com's newsletters.