Posted on
Thu, Jul 19, 2012 : 5:04 p.m.
Scientists go through three-day business 'boot camp' at University of Michigan
By Ben Freed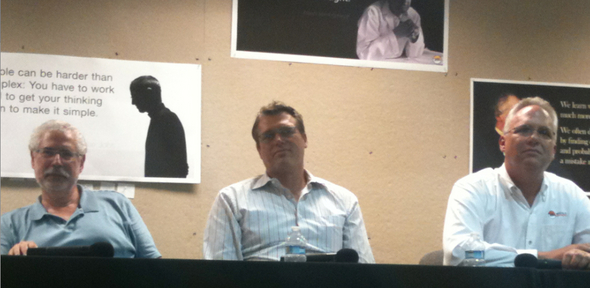 Ben Freed | AnnArbor.com
The first three-day
Innovation Corps
"boot camp" wrapped up on the University of Michigan campus today, followed by a panel discussion featuring the intellectual god-father of the program,
Steve Blank
. U-M received a $1.5 million dollar grant from the
National Science Foundation
to implement the program.
Innovation Corps, or I-Corps, is a program that launched at Stanford University with the aim of using NSF funding to encourage scientists to bring their innovations to the commercial market. The program targets researchers at academic institutions who already receive NSF funding, but have yet to take their inventions outside the laboratory.
The program creates three-person teams that include a primary investigator, an entrepreneurial lead, and business mentor.
"It's a great team because we all might be sitting around the table and saying the same thing, but in three different ways," Babette Ten Haken, a business mentor for one team, said.
The idea came from teaching practices Blank employed at the University of California-Berkley and Stanford.
"Entrepreneurships are not miniature versions of established corporations, and that's how we were treating them," Blank said.
"The I-Corps method is a boot camp for scientists that says, wait a minute, we can turn this search for a business model and for customers into a scientific model with testable hypotheses. That's why the NSF loved it, because they know science."
The teams went through an intensive three-day program at the Ross School of Business and will now face a six-week program that Ten Haken said is the equivalent of what most businesses accomplish in two years. At the end of the six weeks, the teams will come back to Ann Arbor and present their progress.
"At the end of six weeks we are expected to have spoken to at least 100 potential customers and have a business model canvas, which is basically a one-page business plan," she said.
Some of the teams were local, while others came from campuses across the country to participate in the program that will include weekly webinars and close collaboration. Ten Haken's team involved members from MIT and Harvard. Harvey Elliott, a Michigan Ph.D. candidate, also participated in the program. He is working on developing a sensor that can detect electric fields and predict when a shock is likely to be given.
"This technology was developed for spacecraft, for going to Mars," he said.
"But it hasn't been taken off the shelf for the last 10 years. We think it could be used as a lightning sensor, or for electronics manufacturers."
Elliott has no business experience, and he said the I-Corps experience has been eye opening.
"I haven't slept a lot the past three days," he admitted.
"This has really been a kick-start for the commercial aspect of this technology. It's been very intense. In the past year we had seen about six potential customers. In two days we quadrupled that."
The I-Corps program is part of a broader effort by the university to encourage students and faculty to pursue business opportunities. Michigan has invested in an Office of Technology Transfer which helps researchers spin off inventions as well as a three entrepreneurship centers, a startup incubator, and most recently a one-year masters program in entrepreneurship.
"The Innovation Corps fits perfectly with our work in helping the nation move forward," U-M President Mary Sue Coleman said in a statement.
"At Michigan, we are constantly looking to expand the connections that aspiring entrepreneurs need to succeed. That is why we continually invent, innovate and educate."
The 27 teams that participated in the I-Corps program are all supported by NSF funding and will receive additional funding from the foundation to support their efforts towards commercializing their products.
"Building on NSF's 60-plus year legacy of investing in basic research and spawning innovation, I-Corps embodies many of the key elements for entrepreneurial achievement and illustrates why our nation is still the world leader for startup success," Dedric Carter, NSF's senior advisor for strategic initiatives, said.
The teams will return to Ann Arbor August 29-30.
Ben Freed covers business for AnnArbor.com. Reach him at 734-623-2528 or email him at benfreed@annarbor.com. Follow him on twitter @BFreedinA2