Posted on
Thu, Jul 11, 2013 : 5:57 a.m.
Senior citizens await their return to work at Ann Arbor EPA plant
By Ben Freed
Just a few more than 70 senior citizens who work at the Environmental Protection Agency's National Vehicle and Fuel Emissions Laboratory on Plymouth Road have been stuck at home for more than a week and a half.
The workers technically are "program enrollees" whose payment and benefits are overseen by Senior Service America Inc. (SSAI) through the Senior Environmental Employment (SEE) program. Their status has been in limbo since July 1 due to a worker's compensation insurance coverage issue.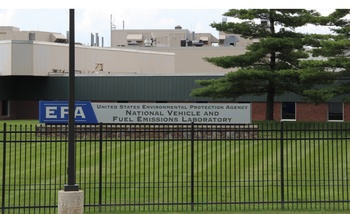 Ben Freed | AnnArbor.com
A post on the Senior Service America website instructs enrollees to
not report to work until further notice
unless they have personally been otherwise notified by a field operations officer. The posting encourages enrollees to use any available accrued leave during the period they are unable to work and allows for sick days to be used without a doctor's statement.
"I don't see it as a very fair way to do this," said one SEE enrollee who requested anonymity due to concerns regarding his enrollment status.
"Why should I use my annual leave for this instead of for planned events with my family and grandchildren? I've been exhausting all of my sick time and vacation time over the last week and a half."
Seniors who work in the SEE program are not government employees, but are entitled to benefits that include workers compensation, paid vacation and sick time, health insurance and federal holidays.
SSAI executive director Tony Sarmiento said in an email his company is working with the Michigan Workers Compensation Placement Facility to obtain coverage and enrollees could return to work as early as Friday.
"This is the first time we have encountered difficulty obtaining worker compensation insurance for our SEE enrollees since we started operating the program in 1984," he said.
Sarmiento said in an interview that SSAI is working state by state to restore workers compensation insurance to its enrollees. He said program participants in some states already have gone back to work and he hopes to have Ann Arbor back on line by the end of the week.
According to the SSA website, the company offers enrollment opportunities in 20 states and Puerto Rico through the SEE program. Cities with EPA facilities that enroll program participants include Ann Arbor, Washington DC, Anchorage, Dallas and Atlanta.
According to the EPA website, the SEE program started in 1984 to provide an opportunity for retired and unemployed older Americans to share their expertise with the EPA. The program is administered by the EPA through grants to organizations like Senior Service America who in turn enroll the program participants.
According to a document on the SSAI website, there are four levels of enrollment through the program that range from Clerical/Non-Typing to Professional positions such as engineers, inspectors, or chemists. Nationwide, entry-level wages range from $7.27 to $12.72 per hour, with the highest paid professional enrollees making $18.16 per hour.
Sarmiento said in an email of the 71 program participants at the National Vehicle and Fuel Emissions Laboratory, 31 fall into Level III (technical) jobs that pay $10.30-$13.92 per hour and 40 are Level IV (professional) enrollees making $12.72-$18.16 per hour.
The National Vehicle and Fuel Emissions Laboratory tests vehicles, engines and fuels for compliance with national standards.
According to an EPA spokesperson, the SEE enrollees make up approximately 20 percent of the National Vehicle and Fuel Emissions Laboratory's workforce.
Ben Freed covers business for AnnArbor.com. You can sign up here to receive Business Review updates every week. Get in touch with Ben at 734-623-2528 or email him at benfreed@annarbor.com. Follow him on twitter @BFreedinA2