Posted on
Fri, Nov 6, 2009 : 6:02 a.m.
Plans expiring for Shops at Arlington retail project on Washtenaw in Ann Arbor
By Dan Meisler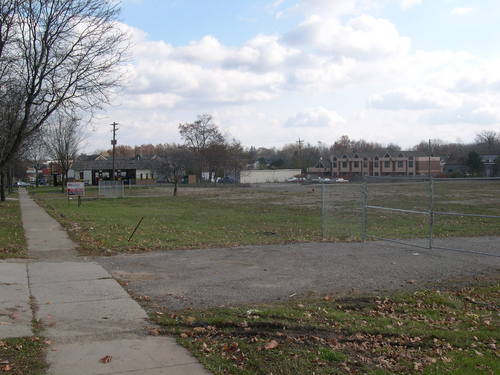 The Shops at Arlington, the 7.2-acre mixed-use redevelopment on Washtenaw Avenue across from Whole Foods, will officially die on Monday as the planned-unit development site plan expires three years after it was approved by the City Council.
A victim of the poor economy and the death of one of its developers, the Shops at Arlington would have added 93,840 square feet of commercial space, 12 residential units totaling nearly 34,000 square feet, and a 51,000-square-foot parking garage to the busy retail corridor along Washtenaw.
Now, it's listed for sale by Southfield broker NAI Farbman on behalf of Comerica Bank, which took over ownership at a May 2008 sheriff's foreclosure auction.
The site plan was approved in November 2006. City planner Matt Kowalski said it will expire on Monday. No submissions to renew the plan have been received, he added.
Kathleen Pitton, vice president for communications at Comerica, declined to comment other than to say the bank would take no action relative to the site plan.
Paul DeBono, vice president for NAI Farbman, said active bidding was taking place for the land, although he declined to give specifics. The sales brochure does not list an asking price. Comerica obtained the land for just under $8 million in the foreclosure auction.
"It's highly unlikely the buyer would want to do exactly what the previous site plan had done," DeBono said. "It's up to the buyer what the highest and most productive use of the land will be."
When asked whether all of the bidders had retail uses in mind, DeBono said, "I wouldn't say that."
The property is west of the Huron Parkway intersection, extending to Platt Road. It includes vacant land, formerly an auto dealership, as well as some vacant buildings that used to house retail tenants.
Nearly 40,000 vehicles pass the property daily, according to state data. But even that amount of traffic is not enough to push a project forward in this economy, said Chris Grant senior vice president with commercial real estate company First Martin.
"I think it's a victim of the times," Grant said.
He surmised that the retailers that had signed leases with the Shops at Arlington, including Talbot's, would not do so again in this economy.
"It's a simple story, the economic times of Michigan has destroyed that project," Grant said.
Even so, many owners with approved site plans have been renewing them rather than watch them expire because of the costs of going through the approval process.
The Shops at Arlington was delayed for many months because of the death of one of its developers, R. Gordon Mathews, in 2007, which prompted a protracted legal proceeding over his estate. The other development partner was Bill Conlin.
A sale of the land had been pending earlier this year, but fell through.
Conlin and Mathews were partners on another local project, Upland Green, which also stalled due to Mathews' death. After a failed effort by another partnership group to finish the project, it recently was sold to a New Jersey company that is now completing it.
Freelance reporter Dan Meisler can be reached at danmeisler@gmail.com.