Posted on
Thu, May 31, 2012 : 2:45 p.m.
Should the owners of unused Borders gift cards be compensated? Trustee says no
By Lizzy Alfs
Borders Group Inc. trustee Curtis R. Smith doesn't think the owners of unused Borders gift cards have much of a case in bankruptcy court.
A bankruptcy judge is expected to hear a case next month from two consumers who got stuck with $125 in unused gift cards to the former Ann Arbor-based bookstore chain — which closed its stores last year as part of its Chapter 11 bankruptcy liquidation.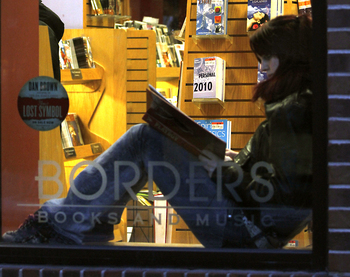 AnnArbor.com files
The individuals say they should be allowed to file late claims for reimbursement because Borders did nothing to inform them of the claims deadline, the Wall Street Journal reported this week. They have requested the court approve their lawsuit as a class action suit to gain more heft.
During the final month it was in business, Borders recorded $156.2 million in "other revenue" — which, according to a bankruptcy filing, included the "write-on of all unredeemed gift cards issued prior to" the company's Chapter 11 bankruptcy filing in February.
Borders honored gift cards until the virtual end of its liquidation sales in September, but with Borders' stores closed, the cards are now worthless. Competitor Barnes & Noble, which acquired Borders' intellectual property, isn't accepting the gift cards.
Attorneys for the two consumers who filed papers with the U.S. Bankruptcy Court's Southern District of Manhattan are targeting Borders, saying the bookstore chain didn't give proper notice that the gift cards would be worthless after its liquidation.
In court papers filed last week, Borders trustee Smith — who distributes cash to Borders creditors — said the company did its part to notify its creditors, including gift-card holders, of the deadline to file a claim.
"The gift card holders had multiple opportunities to act and mitigate any loss by either redeeming their gift cards or timely filing proofs of claim," he said in the court papers. "Instead, they squandered these opportunities and did nothing."
He also noted that it was "widely publicized" in news articles that people should use their gift cards before the company completed its liquidation.
He said letting the consumers join the line of creditors waiting for payment could lead to "potentially tens or hundreds of thousands of gift card claims" to be filed despite missing the claim deadline.
Read the Wall Street Journal report.
Lizzy Alfs is a business reporter for AnnArbor.com. Reach her at 734-623-2584 or email her at lizzyalfs@annarbor.com. Follow her on Twitter at http://twitter.com/lizzyalfs.