Posted on
Fri, Oct 28, 2011 : 5:57 a.m.
Silvio's Organic Pizza hopes to attract late-night crowd with live music, dancing
By Lizzy Alfs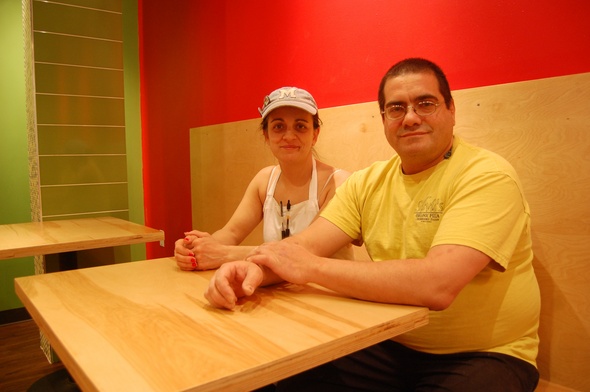 Janet Miller | For AnnArbor.com
Silvio's Organic Pizza
, a restaurant on North University Avenue near the
University of Michigan
campus, is trying to brand itself as a late-night spot for those looking to drink, listen to music and dance.
The family-owned restaurant opened in 2005 at 715 N. University Ave. as a hole-in-the-wall pizzeria, and since then, Silvio's has expanded to become a full-service restaurant with seating for 75 customers.
Silvio's has now started hosting live bands and dance nights, in an attempt to get more people through the doors.
Owner Silvio Medoro recently applied for a dance permit and outdoor service permit that will allow the restaurant to serve alcohol on its patio.
He said he hopes to make reggae nights and tango nights regular events at Silvio's. They also have different bands playing in the restaurant, including jazz and folk artists.
The restaurant is known for its organic pizza and pasta and homemade Italian cuisine. Medoro uses mostly local ingredients, including items from his own garden.
As Silvio's celebrates six years in business, manager Georgia Richardson-Melody said they are trying to find "new and diverse" ways to use the restaurant's expanded space.
The restaurant moved into the adjacent space once occupied by Beanie June's clothing boutique in 2010.
"With businesses struggling and people not spending money as much anymore," she said, "we're trying to figure out what niches we can fill."
"I know that we are trying to cater to the student population and just make this a fun place," she continued. "We have an environment that is both good for studying during the day and dancing, or listening to music."
Medoro said that since last year's expansion, business has improved, but he is now focused on improving the restaurant's customer service.
"We are transforming the service and pretty much the whole experience people have here at Silvio's," he said.
Lizzy Alfs is a business reporter for AnnArbor.com. Reach her at 734-623-2584 or email her at lizzyalfs@annarbor.com. Follow her on Twitter at http://twitter.com/lizzyalfs.