Posted on
Mon, Feb 1, 2010 : 3:07 p.m.
Silvio's Organic Pizza expansion raises profile of Ann Arbor restaurant
By Janet Miller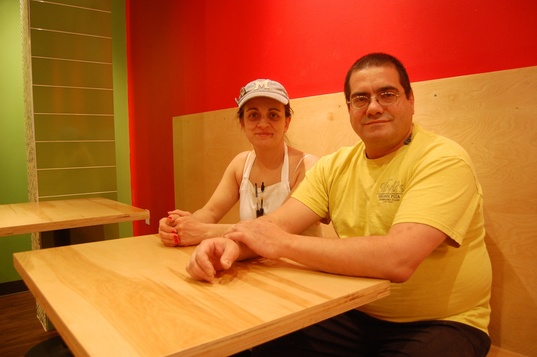 Janet Miller | For AnnArbor.com
Silvio's Organic Pizza is going upscale this week.
Since it opened in 2005, Silvio's has been known for its organic pizza and pasta and authentic homemade Italian cuisine. But it hasn't been known for its ambiance.
Wedged into a small space behind Sushi.com on North University Avenue in Ann Arbor, across from the northern edge of the University of Michigan's Diag, Silvio's was a place to grab a quick bite or carry out but not as a place to linger.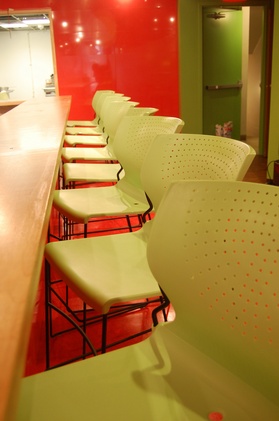 That's changing as the family-run Silvio's expands into the adjacent space once occupied by Beanie June's women's clothing boutique, with seating for 75, tile imported from Italy, a restroom of its own and a décor meant for leisurely dining.
The new space welcomed customers on Monday, after the restaurant passed city inspections. Some final work on the space remains to be done, but owner Silvio Medoro has expanded and upgraded the kitchen, tweaked the menu, added weekly or monthly specials, applied for a beer and wine license and even added a romantic table for two tucked into a private corner with mood lighting.
Done in bright greens and reds, the décor, said Medoro, "is modern Italian."
Medoro, who along with his wife, Catia, and adult children run the restaurant, said he hopes the expansion and improvements will bring a 40 to 50 percent uptick in business. He wants to attract more business lunch traffic, along with customers looking for a nice meal with wine before heading over to a show at Hill, Rackham auditoriums or the Power Center.
"I like a challenge," Medoro said. "It's a hard time with the economy, but I think there will be a good return on the investment."
To finance the $150,000 expansion, Medoro said he took on a partner. He said business has been good since he opened 4 ½ years ago, going from mostly a pizza shop to a restaurant with a full Italian menu such as rapini pasta with garlic oil and Italian sausage and Alfredo pasta with organic ham and mushrooms.
Much of the pasta is homemade and many of the ingredients are organic. Medoro is also willing to accommodate customer requests for dishes off-menu "when I'm not super busy," he said.
"Business climbed very fast the first three years and the last year has been steady," he said.
Even with the opening of Panera Bread close by, Silvio's has been doing well, attracting a mix of students and locals.
Medoro's niche has been simple but authentic Italian food. He grew up working in his father's bakery in the Abruzzo region of Italy, east of Rome, known for its healthy, uncomplicated food, Medoro said.
"It's simple natural food, but not fast food. We use herbs like rosemary, garlic and oregano."
The expansion includes a hydroponic herb garden using grow lights in the center of the new space.
Medoro also added a number of Sicilian dishes such as arancini, rice (or risotto) balls coated with cornmeal and stuffed with cheese and other flavors. He's even willing to go outside of Italy for his menu.
"A customer from St. Petersburg one time asked me to make borscht, using his mother's recipe," Medoro said.
With the expansion, Medoro will create seasonal menus to reflect what's available at the market, create new dishes and add specials.
he restaurant will offer two areas for dining: The original area with long birch-topped tables for communal eating, will be for diners who want to grab a slice of pizza or a quick pasta dish at the counter and eat on-site. The new area with booths, a counter and tables, will be for leisurely diners and will have table service with waitstaff. Medoro said he expects to add three employees to his staff.
Silvio's added a popular line of gluten-free pastas and pizzas. "No one opens a can, there's no soup stock, everything is from scratch," said Cathy Banish, one of Silvio's manager.
Until now, Silvio's offered seating for about 20, Banish said.
"Half the time, people couldn't find a seat…. We want it to become a real destination that's cozy, new and clean. Ann Arbor doesn't have anything like this."
For more information on Silvio's Organic Pizza, check out AnnArbor.com's restaurant guide.
Sign up here to receive the weekly Business Review newsletter, distributed every Thursday by AnnArbor.com.