Posted on
Mon, Nov 7, 2011 : 1:29 p.m.
Noodles & Co. wants to build restaurant at site of former Sze-Chuan West
By Lizzy Alfs
Plans have been submitted to the city of Ann Arbor to build a Noodles & Company restaurant on West Stadium Boulevard on the site of the former Sze-Chuan West restaurant.
The owner of the property, Gallup Properties, submitted a request in September to the city for a land division, which would divide a car wash at 2151 W. Stadium and the former restaurant at 2161 W. Stadium into two separate parcels.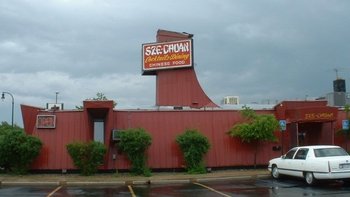 Photo courtesy of Sarah Rigg
Gallup Properties owner
Chuck Gallup
said the division would help redevelop the property for a new tenant.
If all goes as planned, that new tenant could be Noodles & Company, Gallup told AnnArbor.com today.
Although no deal has been finalized for the property yet, a contractor submitted plans to the city to build the new restaurant.
The plan calls to demolish the 4,253-square-foot Sze-Chuan West building, and build a 3,294-square-foot Noodles & Company restaurant.
The proposal includes a new building and outdoor patio, landscape improvements, reconfigured parking, a bicycle rack and a dumpster area.
Gallup said he's sorting out the final details on the plan before the deal can be finalized.
"If everything goes well, we'd like to get this going next spring," he said.
The Sze-Chuan West restaurant, a fixture on West Stadium for years, closed in February.
There are two other Noodles & Company locations in Ann Arbor. One location is on South State Street near the University of Michigan campus, and the other is on Washtenaw Avenue in Arborland.
The company has more than 260 restaurants, according to its website.
Lizzy Alfs is a business reporter for AnnArbor.com. Reach her at 734-623-2584 or email her at lizzyalfs@annarbor.com. Follow her on Twitter at http://twitter.com/lizzyalfs.