Posted on
Sat, Nov 26, 2011 : 5:58 a.m.
A day after Black Friday, national Small Business Saturday takes the spotlight in Ann Arbor
By Angela Smith
Business owners in Ann Arbor should expect a lot of local shopping today. American Express has joined forces with 130 small business groups for the second year to celebrate what they are calling "Small Business Saturday."
More than 540 Ann Arbor area businesses are listed as participants on Small Business Saturday's Facebook page in an effort to encourage shoppers to buy local.
Much of the Black Friday attention goes to big box retailers like Target, Best Buy, and Walmart. But today's focus is on supporting local economies.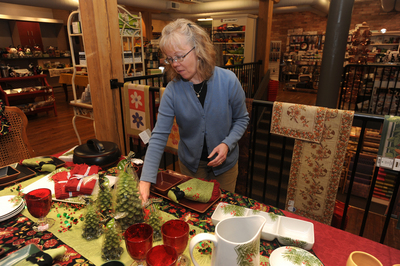 File photo | AnnArbor.com
Hans Masing, owner of Ann Arbor store Tree Town Toys, is thrilled that American Express is turning the spotlight onto small businesses. "We appreciate the support and the fact that they are encouraging people to shop local," Masing said.
Masing says that he expects the store to be busy and that people are far more aware of the event than they were last year. But busy is what he expects every week for the rest of 2011.
"Half of our sales for the year happen in the last six weeks," he said.
Tree Town Toys doesn't offer one-day sales or hot-item promotion but does offer a rewards program and free gift wrap. He says the focus at Tree Town Toys will be no different than usual.
"We'll continue to do what we do… which is selling toys that focus on the fundamentals of play," he said.
Many of Ann Arbor's downtown small businesses focus on making the shopping experience special at the end of the year.
Downtown Home & Garden owner Mark Hodesh said: "Happiness is a big part of my business. From my wonderful and friendly staff, to the delightful goods offered at the store, to the celebratory food carts courtyard, we are spreading happiness."
Hodesh is temporarily transforming Mark's Carts, the outdoor food cart courtyard he launched this year, into a venue for selling holiday greenery and trees, calling it Mark's Supreme Happiness Christmas Trees. The courtyard will feature chestnuts roasting over open fire on Friday and Saturday nights beginning this weekend.
Hollander's, a three-story specialty paper and bookbinding shop, has been a growing local business for 25 years.
Tom and Cindy Hollander explain why supporting local businesses is so important: "If people didn't support the local, small businesses, then retail shopping would become increasingly corporate, sterile, and lack the individuality and uniqueness that only small businesses display."
The Hollanders feel that much of their success is attributed to their location in Ann Arbor's Kerrytown district. "Kerrytown management has a great vision for this unique part of Ann Arbor and has done a great job of bringing together a diverse mix of retail and food shops. They are fully supportive and appreciate the individualism of the tenants. The store owners at Kerrytown are very connected and committed to their businesses and customers."
Though Hollander's is not a participant in the Small Business Saturday movement, it's a member of Ann Arbor's Think Local First and will be participating in the local Midnight Madness Sale and KindleFest which features sales, food, music and festivities until midnight Dec. 2.
Angela Smith is a freelance contributor and retail writer for AnnArbor.com