Posted on
Wed, Aug 24, 2011 : 11:56 a.m.
University of Michigan discussing possible North Campus solar energy installation with DTE Energy
By Juliana Keeping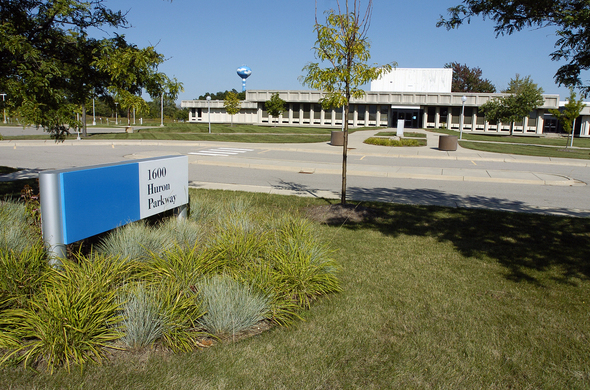 AnnArbor.com files
The
University of Michigan
is discussing a deal with
DTE Energy
to build a ground-level solar panel installation on its
North Campus
in Ann Arbor, a school official said.
The project could materialize within the next six months, said Terry Alexander, director of U-M's office of campus sustainability.
A DTE official said Wednesday that the former Pfizer campus, which U-M acquired and renamed North Campus Research Complex, is being eyed for an installation. But the DTE spokesman declined to provide further details. He said talks have been ongoing with U-M for about a year.
DTE is running a pilot program in which it builds, owns and maintains large solar panels on suitable southeast Michigan properties, and then pays the property owner for the energy it generates.
It's part of the utility's efforts to meet Michigan's Renewable Portfolio Standard, which requires that utilities derive 10 percent of their electricity from renewable sources by 2015.
It was not immediately clear how large the installation would be or where it would be located. The former Pfizer site has a 29-acre swath of empty land fronting Plymouth Road.
The news comes after Ann Arbor-based Ecology Center launched a campaign last week to lobby U-M to install solar panels at Michigan Stadium. It would be a symbolic gesture and eliminate hundreds of tons of carbon dioxide a year from the atmosphere, according to Ecology Center's Ann Arbor 350 campaign.
But the university is focusing its solar energy plans on North Campus, Alexander said.
"If you stay tuned, you'll be quite pleased by the solar installation," Alexander said.
U-M says the idea for panels on the Big House doesn't make financial sense. And there aren't many places to put the panels on the roof. Due to safety regulations and equipment on the roof, the tops of two new towers completed as part of a renovation in 2010 are the only suitable spots for panels.
Alexander said feasibility studies show that solar panels at Michigan Stadium would take more than 70 years to recoup costs.
Monica Patel, a policy specialist at the Ecology Center, said the campaign for Big House panels has about 300 signatures so far.
The Ecology Center was unaware of U-M's discussions with DTE, an official said.
Recent participants in DTE's solar subsidies program include a 264,000-square foot solar field project at the General Motors Detroit-Hamtramck Chevrolet Volt Assembly Plant.
While U-M would prefer to build an installation at North Campus, Alexander said solar panels on the Big House might still might be possible if a donor were to step up to fund the project.
Juliana Keeping covers general assignment and health and the environment for AnnArbor.com. Reach her at julianakeeping@annarbor.com or 734-623-2528. Follow Juliana Keeping on Twitter