Posted on
Sat, Sep 24, 2011 : 5:56 a.m.
Solar power without panels? University of Michigan researchers say it's possible
By Sven Gustafson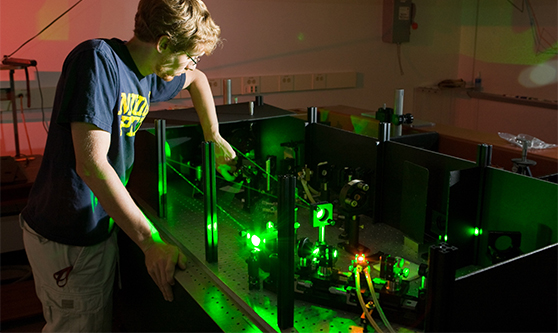 Courtesy photo
Has a
University of Michigan
professor and his research partner stumbled upon a cheaper, more efficient form of solar power?
That's the exciting if still far-off possibility underpinning the work of Stephen Rand, a professor of applied physics, and William Fisher, his doctoral student.
The two have discovered that the magnetic component of light can be realized at intensities previously not thought possible using ordinary transparent materials, like glass or ceramics. If harnessed, the interaction could generate a significant amount of power with no semiconductor or photovoltaic panels needed.
"This method is appropriate both to beam conversion and to solar energy conversion," Rand said. "So that means I could take a beam of light and convert it directly to electricity or in principle, we've shown that you could take sunlight and do the same thing."
The initial discovery dates back to 2007, when Rand was experimenting with the magnetic scattering of a laser beam through various liquids and was surprised to discover magnetic polarization at higher intensities. He and Fisher wrote about their work most recently in the March edition of the Journal of Applied Physics.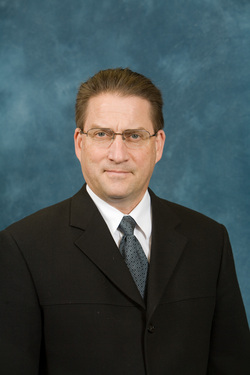 Light is made up of electric and magnetic waves, but science had always considered its magnetic effects negligible. Rand and Fisher have found a way to make the magnetic effect millions of times stronger than previously expected.
"The dynamics are definitely not obvious but the classical equations make them relatively easy to visualize, since they're just like Newton's equations," Rand said in an in-house interview at U-M. "You could stare at them all day, and you will not see this possibility mathematically, however. It's a very odd interaction in the end that gives rise to this effect."
Rand, 62, said he's applied for a patent for his intellectual property, and he traveled to Washington D.C. earlier this summer after being invited to meet with officials with the Department of Defense who were interested in his work.
For now, he's focusing on conducting more experiments, and he's teamed up with Richard Laine, a professor of material science at U-M, for help identifying a suitable material for best expressing the interaction, especially with sunlight.
Laine said the effects call for a material that can withstand fairly intense light being focused rapidly on one side and then the other. He's exploring polymers and high-temperature transparent ceramics.
"You have to put onto the sides of the transparent material something that will siphon off electricity," Laine said. "Some of that technology already exists. The question is whether you can put it onto the surface of your transparent materials such that it will be stable and form a good bond, even at high fluxes of light.
"Those are things that I don't think are that far out, but getting it to work, getting it to scale, those are the things that will take time and investment."
The technology could also be paired with PV panels positioned behind the magnetic field generator, since light that isn't transformed into energy can pass through the transparent material. "That makes it even more attractive," Laine said.
And whereas contemporary solar panel technology maxes out at around 50 percent efficiency, the magnetic field generator could achieve a conversion efficiency of close to 100 percent since there is no absorption of light, which creates heat, Rand said.
The researchers call the charge separation phenomenon an "optical battery."
"The way you get power out of this is as this transfer progresses, not only do you get arced motion, instead of straight motion of the electron going back and forth in the field, but the electrons move away from their nuclei, and there is simply no other interaction I'm aware of that does this kind of thing," Rand said.
"It just creates a static electric dipole moment on each and every molecule, and these add up to give you a voltage across the sample."
• Contact freelance reporter Sven Gustafson at sventg123(at)gmail(dot)com, or follow him on Twitter.