Posted on
Sun, Apr 28, 2013 : 5:58 a.m.
South State Street Corridor Plan: A new vision for Ann Arbor's critical gateway
By Lizzy Alfs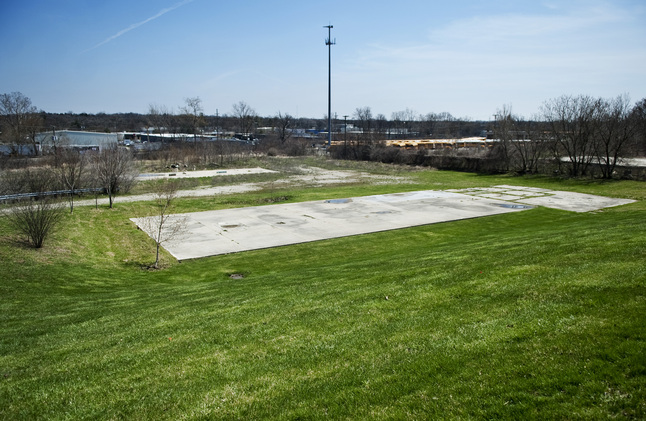 Daniel Brenner | AnnArbor.com
The South State Street corridor from
Stimson south to Ellsworth
is a major employment center, a retail destination and a critical gateway into downtown Ann Arbor, but how could the area be improved?
That's the question at the center of the city of Ann Arbor's first major planning study of the South State Street area in 22 years. Launched in 2011, the South State Street Corridor Plan is nearing completion and it will likely result in a new chapter added to the city's master plan.
The 2.15-mile stretch of South State is diverse: It has more than one million square feet of retail space, about 900,000 square feet of office space, 580,000 square feet of industrial and light manufacturing uses, and a small number of residential properties.
The area houses some of the county's largest employers — including Truven Health Analytics, Proquest and Edwards Brothers Malloy — and the region's largest shopping center, Briarwood Mall, is located at the corner of Interstate 94 and South State.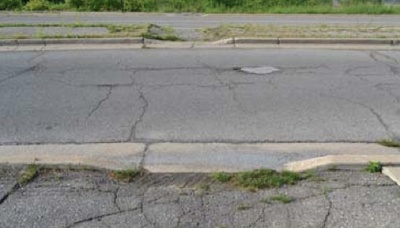 City of Ann Arbor
Many of the buildings were constructed decades ago and nearly every parcel along the corridor is developed. Newer development has occurred on the south side near Ellsworth, including the Costco warehouse store in Pittsfield Township and a Tim Hortons coffee shop.
As the city solicited public feedback on how the area could be improved, a common concern arose: the corridor is ugly.
"Obviously, from a utility standpoint (the corridor) functions adequately, but it's still far from being a good gateway into the city," said Andrew Selinger, an investment analyst with Ann Arbor-based Oxford Company, which owns or manages about 400,000 square feet of office space around the State Street area.
"As an Ann Arbor real estate company, we're thrilled that (the city) is sort of reconsidering what needs to be done down there and how to make it better," he added.
Selinger said there are easy fixes that can be made to approve the appearance of the corridor: fix the roads, sidewalks and medians; plant trees; improve or add more bus stops; install signage or art.
"It's not likely that area is going to transform into a vibrant neighborhood overnight, but what we need to do is take what we have…and 20 percent of the effort will get us 80 percent of where we want to be," he said.
This type of input from the public is helping drive the recommendations in the South State Street Corridor Plan. A 41-page draft copy of the plan was unveiled at an Ann Arbor Planning Commission meeting in January, and residents can submit online feedback until April 30. (Download a copy of the plan)
Pittsfield Township Supervisor Mandy Grewal said planning staff was involved in discussions with the city of Ann Arbor about how to improve the corridor. She said the township envisions greater density and mixed uses to go in that node, which is defined in the township's master plan.
Ann Arbor Planning Commission is scheduled to review the plan at a working session on May 7, and a public hearing for final adoption is scheduled for May 21.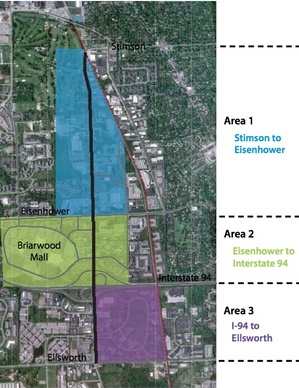 City of Ann Arbor
"There was extensive public outreach that took place last year, which included direct interviews with many dozens of stakeholders," said City Planner Jeff Kahan.
"One of the themes that we heard from the public process was an interest in improving the aesthetic, but another was an interest in creating places that are more vital…so it's not just a transportation corridor or a place where people to go work…one of the things we're exploring is ways that we can encourage folks to get out of their cars," he continued.
Some other recommendations in the plan include:
Develop incentives for more stringent efficiency standards that encourage all new buildings to have solar-ready rooftops
Evaluate utilizing open land for community gardens
Assess and improve high-crash areas along the corridor
As housing is integrated into mixed-use areas, encourage the expansion of affordable housing options
Resurface roads in the corridor
Develop safe non-motorized systems
Establish high-visibility pedestrian crossings
Replace DTE street lights with high-efficiency LEDs
Anticipate and plan for future light rail transit or bus rapid transit
Evaluate innovative parking solutions
Promote commercial development in specific areas
Although nearly every parcel in the corridor is developed, there are still a number of real estate opportunities.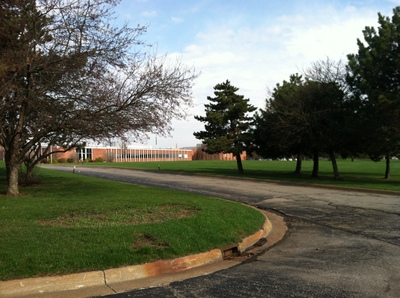 Lizzy Alfs | AnnArbor.com
The Edwards Brothers Malloy property at 2500 S. State St., which the company developed in 1954, has vacant land west of the 185,000-square-foot facility. The South State Corridor Plan —and local developers and real estate experts — suggest the land could support a multi-family development if it were rezoned. The building is also surrounded by property owned by the
University of Michigan
.
"The Edwards Brothers land should be high density multi-family," said Oxford Company President Jeff Hauptman via email.
Since Edwards Brothers merged with Scio Township-based Malloy Inc. in 2012, the resulting Edwards Brothers Malloy has considered its options for building consolidations or relocations, said CEO John J. Edwards. But both facilities are being used at capacity, and the logistics involved in moving presses is "daunting," he said.
Edwards said he hasn't been seriously approached about selling the entire property or the vacant land in front of the State Street building.
"We just have been here a long time. In my life, I've seen the town just kind of march past us," he said. "This kind of facility could be anywhere, but we haven't really thought much about it."
Meanwhile, Ann Arbor-based McKinley Inc. is considering building an affordable housing project behind the McKinley Executive Centre at 2245 S. State.
McKinley CEO Albert Berriz said a vacant 4.47-acre parcel — which is behind the office building and nestled near railroad tracks and an Ann Arbor Public Schools administrative property that houses buses — would be a prime location for an affordable housing development.
"We think it's a perfect location for it," he said. "It's close to downtown, it has excellent transportation support…right around the corner in walking distance you have the (Kroger and Produce Station) grocery stores and the (CVS pharmacy) right around the corner as well. I think there are certainly a lot of good, walkable services in the immediate vicinity."
McKinley is in the beginning stages of proposing the project, but the company intends to apply for a Low Income Housing Tax Credit. The program encourages the development and rehabilitation of affordable rental housing by awarding tax credits to developers of qualified projects.
"I think it's feasible that we would attract, in addition to our equity, the tax credit equity quite easily," Berriz said.
"It takes a sophisticated person that has money, that has staying power, that is willing to take the time (to get approvals for affordable housing)," he continued.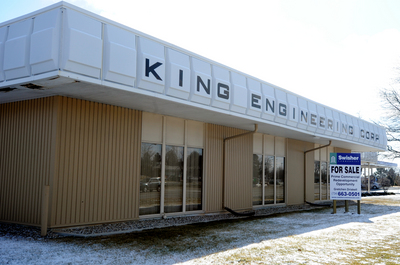 Melanie Maxwell | AnnArbor.com
Commercial development opportunities include the high-profile
former King Engineering buildings
at 3201 S. State St., which have been vacant since the company moved out a year ago. The 2.48-acre site is being marketed for sale with Ann Arbor's
Swisher Commercial
, which lowered the listing price from $3.5 million to $2.7 million in fall 2012.
Dave Hamilton of Swisher told AnnArbor.com this week that the property is under sales contract with a developer, but he said it could take at least six months before it's officially sold. Hamilton declined to reveal any details of the deal due to confidentiality agreements.
Further south at 3776 S. State, the former Passport Restaurant and Lounge building is being marketed for lease after the restaurant closed permanently in November.
Developers have also proposed a retail project on a 1-acre property at 3945 S. State St. just north of Ellsworth. It would consist of two buildings, totaling 8,531 square feet with a single-lane drive-thru to serve one building. Bob Andrus of Michigan Commercial Realty is marketing the buildings for lease.
For the property surrounding Briarwood Mall, the South State Street Corridor Plan suggests pedestrian and transit access should be incorporated into any future redevelopment of the parcels. It also says surface parking could be converted to structured parking to allow development on portions of the existing parking lot.
"More intense uses will help use land more efficiently and can promote greater vitality at the mall," the plan says.
Briarwood Mall unveiled a renovation plan in March, but mall officials declined to reveal plans for the shopping center's expansive parking lot.
"We continue to explore opportunities," Briarwood Mall manager Ida Hendrix said.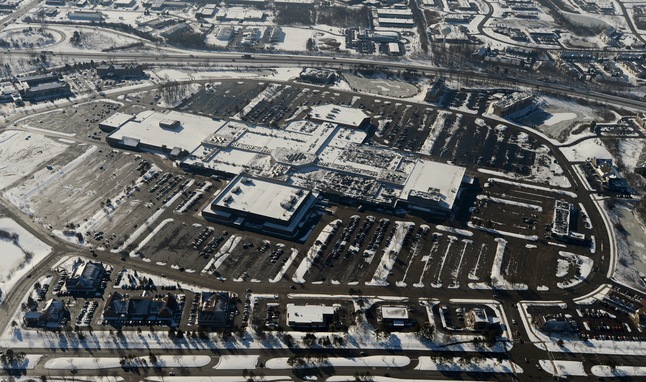 Melanie Maxwell | AnnArbor.com
Lizzy Alfs is a business reporter for AnnArbor.com. Reach her at 734-623-2584 or email her at lizzyalfs@annarbor.com. Follow her on Twitter at http://twitter.com/lizzyalfs.