Posted on
Fri, Oct 22, 2010 : 2:32 p.m.
Downtown Home & Garden seeks to add new greenhouse to downtown Ann Arbor store
By Janet Miller
Downtown Home & Garden, popular purveyors of house wares and gardening equipment in downtown Ann Arbor, is growing.
Store owner Mark Hodesh recently won approval from the Ann Arbor Historic District Commission that will allow him to build a second greenhouse in the back of his store at 210 S. Ashley.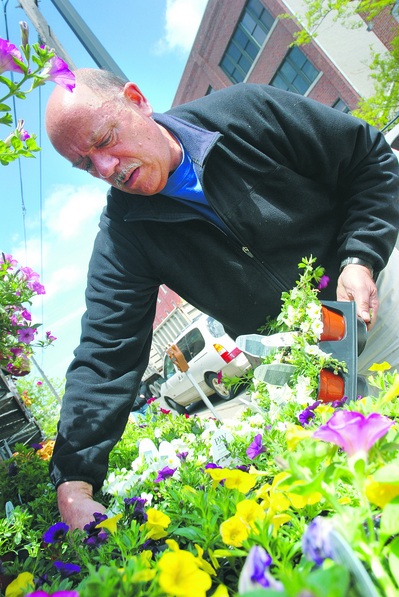 AnnArbor.com files
Construction won't likely begin until late winter, Hodesh said, and should be completed by mid-April, in time for the spring planting season.
The greenhouse will showcase three of the store's growing lines: Seasonal plants, large ceramic planters and outdoor furniture. The greenhouse will allow him to sell the popular big pots already planted with flowers.
Hodesh would not release details on the cost of the project.
Hodesh last week won approval from the Historic District Commission to build a door from the back of his late-19th Century former feed store that will lead on to the project, said Jill Thacher, Ann Arbor's historic preservation coordinator.
But the actual structure will sit on property that is not within the historic district so does not need HDC approval, she said. The project will need site plan approval from the city.
Hodesh also won HDC approval for work on the door of a separate, single-story building on his land, Thacher said.
Downtown Home & Garden already has one greenhouse on the south side of the building, adjacent to the small parking lot. The new greenhouse, which will be built on the west side of the building, will be twice that size, Hodesh said.
"Business has been very good and we want to keep growing," he said.
Hodesh bought the building and operated a garden store under the Hertler name beginning in 1975. He sold the business and the name - but not the building - in 1981.
He returned to Ann Arbor and the store in 1997, when he renamed it Downtown Home & Garden. Despite the poor economy, the business continues to grow, Hodesh said. They sell an eclectic mix of products, from birdseed by the pound (weighed on their 1929 Toledo scale) to LeCreuset cookware.