Posted on
Mon, Jun 27, 2011 : 3:10 p.m.
Squares Restaurant in downtown Ann Arbor closes 'for summer vacation'
By Lizzy Alfs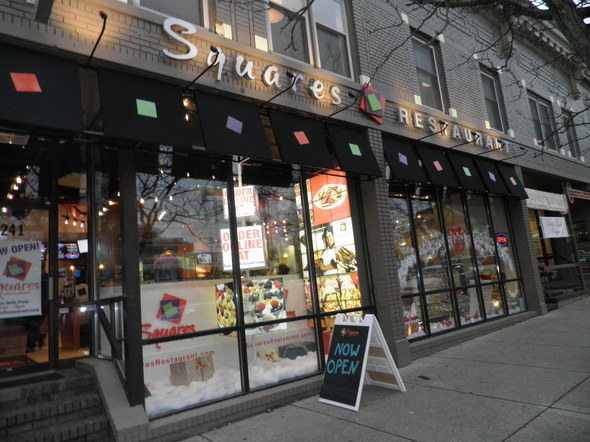 (Editor's note: See also, Big Boy's @burger restaurant closes on East Liberty Street in Ann Arbor)
Squares Restaurant on Liberty Street in downtown Ann Arbor is closed "for summer vacation," according to a sign on the door and its website.
The restaurant opened in December 2010 at 241 E. Liberty St., on the block between South Fourth Avenue and South Fifth Avenue in the Liberty Plaza building.
The sign on the door does not announce a reopening date.
Scott Nail, director of operations for Squares Restaurant, told AnnArbor.com last year that the restaurant planned to open a second location in Canton eventually.
However, the second location never opened, and the future of Squares' Ann Arbor restaurant is unclear.
Nail could not be reached for comment regarding the restaurant's temporary closing.
The owner of the building is the Oxford Companies. Other tenants in the building include Afternoon Delight, Antelope Antiques & Coins and Bella Rosie.
Deb Pearson, agent for Bluestone Realty Advisors and a listing agent for the building, said she is unsure of the restaurant's status.
"We really don't know what's going on," she said. "We just learned of the sign on the door, and we are trying to figure that out."
Restaurants that previously occupied the 2,800-square-foot space include Chinese restaurant Dinersty and Yoshi's Restaurant.
Nail said last year that the East Liberty spot was a great location for a restaurant.
"There are the parking garage construction projects and the post office across the street," Nail said. "I think we've got a great venue here."
The trademark for Squares Restaurant is, "Always fresh, all the time," he said.
The restaurant serves sandwiches on square flatbread, and also offers items like omelets and salads.
Lizzy Alfs is a business reporter for AnnArbor.com. Reach her at 734-623-2584 or email her at lizzyalfs@annarbor.com. Follow her on Twitter at http://twitter.com/lizzyalfs.