Posted on
Fri, Mar 2, 2012 : 5:59 a.m.
St. Joseph Mercy Hospital launching eating disorders recovery program
By Nathan Bomey
St. Joseph Mercy Health System plans to launch an eating disorders recovery program at its Superior Township hospital after completing a $1.3 million renovation project that started quietly in January.
The initiative, launched in collaboration with the Ann Arbor-based Center for Eating Disorders, will be a "partial hospitalization" program, allowing minors and adults to get treatment from clinicians, psychologists and social workers.
SJMHS is renovating 19,000 square feet at its Huron Oaks building, which is located on McAuley Drive in the heart of the 340-acre Superior Township hospital campus. Some other services, such as administrative offices for the behavioral services department, will be shifted to the renovated facility once the project is complete.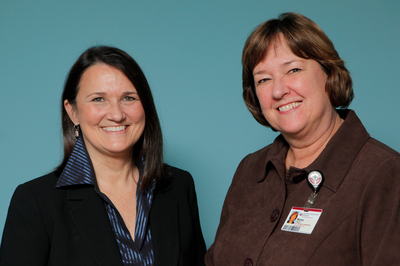 Chris Asadian | AnnArbor.com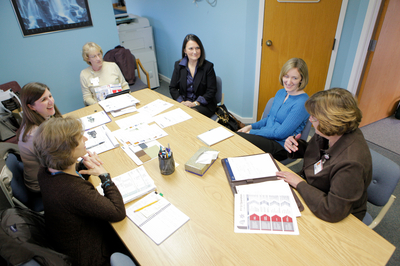 Chris Asadian | AnnArbor.com
The eating disorders recovery program joins the health system's existing partial hospitalization services, including treatment for adults and adolescents with conditions such as schizophrenia, depression and behavioral problems.
"The eating disorders recovery program will be implemented as a complement to the existing services in the hope that one day, as we further develop referrals, that it will stand alone within the facility that we're renovating," said Nancy Siegrist, director of behavioral services for SJMHS.
The nonprofit Center for Eating Disorders is assisting in the design and implementation of the new program. SJMHS is contracting with the organization, which will provide services such as staff training, nutrition counseling and on-site psychological services.
Judith Banker, executive director and founder of the Center for Eating Disorders, said the partnership is a big step for the nonprofit she launched in 1983.
The group, which has about 11 employees, fulfills about 500 appointments per month. The center has already added staff to help run the program and train SJMHS employees.
Chris Asadian | AnnArbor.com
"We're bringing the eating disorder expertise to the program," Banker said.
She said she was particularly excited about the new eating disorders recovery program because it provides a local option for young patients who need partial hospitalization. The program allows patients to go home to their families in the evening.
"We think this is a good model to start with," Siegrist said.
Current research indicates that up to 22 percent of adolescents have eating disorders such as anorexia or bulimia, Banker said.
"If we don't catch eating disorders early, they tend to become chronic," she said. "This is where we really need to do the intervention."
Banker said research also indicates that children are being diagnosed with eating disorders at an earlier age. About 60 percent to 80 percent of young people with eating disorders will seek treatment, but only 20 percent to 30 percent get "specialized treatment" for their condition, she said.
"Access to specialized treatment is really low for kids," she said.
The facility renovations, led by Brighton-based Contracting Resources Inc. and Ann Arbor's Hobbs + Black Architects, include traditional therapy rooms, private offices, exam rooms and activity space.
To accommodate the eating disorders program, the renovated building will have a living room and kitchen designed to mimic a real-life environment.
"We are paying a lot of attention to our kitchen," Siegrist said. "It will actually be a kitchen where families can prepare a meal together and learn how not only to prepare but eat that meal together."
Kathy Kasperek-Korelis, executive director of ambulatory services at SJMHS, said the renovation project would be finished by about June.
The eating disorders recovery program will be launched gradually with room for up to up to 15 patients at first.
Since the hospital is adjacent to the Huron Oaks building, patients can be transferred to the hospital if additional medical treatment is necessary.
Contact AnnArbor.com's Nathan Bomey at (734) 623-2587 or nathanbomey@annarbor.com. You can also follow him on Twitter or subscribe to AnnArbor.com's newsletters.