Posted on
Wed, Mar 16, 2011 : 5 a.m.
St. Joseph Mercy Saline hospital's empty unit leased to Evangelical Homes of Michigan for expansion
By Nathan Bomey
Evangelical Homes of Michigan is expanding its Saline nursing home facility by taking over empty space at the next-door hospital operated by St. Joseph Mercy Health System.
EHM plans to announce today that it has signed a lease to occupy 21,000 square feet of space formerly occupied by the hospital's inpatient unit, which closed in 2010.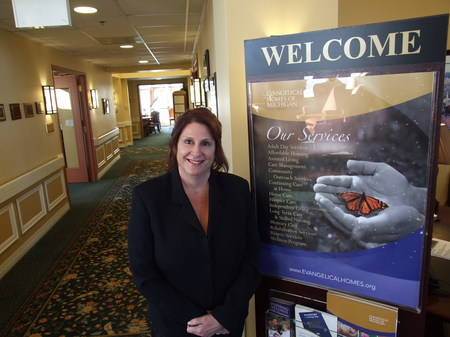 Nathan Bomey | AnnArbor.com
The senior care service provider plans to spend several million dollars to renovate the space and convert it into 25 private rooms, boosting capacity for short-term physical rehabilitation.
The deal represents a bet by EHM that short-term rehabilitation care offers market opportunity as research shows a desire among elderly patients to keep their homes instead of moving into a senior care facility.
"This is part of a strategic direction of Evangelical Homes of Michigan in that we believe that the active older adult will come into a skilled rehabilitation setting for a short stay and then return home," EHM CEO Denise Rabidoux said in an interview.
The additional space will increase the Saline nursing care facility's room capacity to its maximum licensed limit of 207 patients, Rabidoux said.
"Evangelical Home Saline — and the programs and services that we offer in Washtenaw and the greater community — is very much in demand," Rabidoux said. "One of the things that we always struggle with at Evangelical Home Saline is that we are constantly at full capacity. This opens it up for the community. This is an opportunity to say, 'Yes, we can take your loved one into a short stay,' or, 'Yes, we can take your loved one into a hospice stay."
Rabidoux declined to reveal financial terms of the lease except to say there were other bidders for the space and that EHM is signing a long-term lease. She said the space makes sense for EHM in particularly because St. Joseph Mercy Hospital Saline is physically connected to the nursing home.
EHM will use the space to expand its Pathways TransitionCare program, a skilled rehabilitation center that helps seriously ill or injured patients relearn daily living skills.
"We're actually going to physically move our existing rehabilitation unit into this new space and then reprogram our traditional skilled nursing rehabilitation, as well," Rabidoux said.
EHM employs about 460 workers at a nursing home, retirement community, assisted living center and memory care facility in Saline. The 131-year-old nonprofit, which is affiliated with the United Church of Christ, also has about 125 workers who work out of a corporate office on Briarwood Circle in Ann Arbor. Overall, the group has more than 1,000 employees and serves more than 2,000 seniors.
St. Joseph Mercy Health System, a unit of Novi-based Catholic not-for-profit Trinity Health, announced in May 2010 that it was closing the Saline hospital's inpatient unit and shifting inpatient functions to its Ann Arbor hospital.
The Saline hospital continues to operate an emergency room, outpatient surgery unit, laboratory services, radiology services and house physician offices.
"We welcome this opportunity to share our space with Evangelical Homes," Rob Casalou, CEO of St. Joe's Ann Arbor, Livingston and Saline hospitals, said in a statement. "It is a mutually beneficial relationship for both organizations: bringing attention to the many hospital services offered at St. Joe's Saline, and providing a space already appointed for patient care to the future patients of the expanded Pathways TransitionCare program."
Rabidoux said she anticipates job growth as part of the expansion, but it's too early to say how many new employees will be needed. She said most of the new jobs would be in nursing and therapy.
EHM will take control of the space May 1 and plans to spend three to six months on construction with a goal of opening the new unit in the fall.
Contact AnnArbor.com's Nathan Bomey at (734) 623-2587 or nathanbomey@annarbor.com. You can also follow him on Twitter or subscribe to AnnArbor.com's newsletters.