Posted on
Thu, Jan 5, 2012 : 11:17 a.m.
Ann Arbor's commercial real estate market improving as vacancy rates fall
By Paula Gardner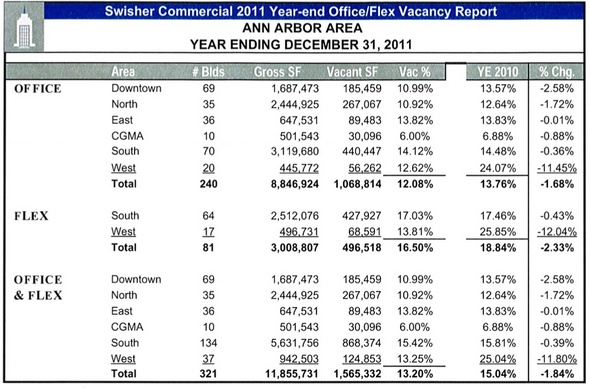 Data by Swisher Commercial
Ann Arbor's economy is improving for the second consecutive year, according the most detailed survey available of the local office market.
The 2011 report by Swisher Commercial shows that about 13.2 percent of the region's 11.8 million square feet of leasable office space is vacant, an improvement over 2010's 15.04 percent.
That number represents an indicator of improvement in the region's business climate, said Swisher vice president Bart Wise. It also offers a sign of recovery, he said, though the amount of available office space remains higher than the years before the economic crisis.
"We're happy to see the 13 percent," Wise said. "… It's good news in that businesses … don't go out to rent more office space if they're not optimistic."
With two years of a slight decline, Wise said, there's now a trend toward a more stable market.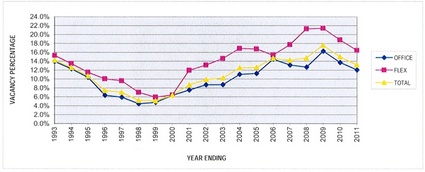 Data and graph by Swisher Commercial
However, he said, "The trend is not because we're out of this recession."
He continued: The good news "is all tempered … because it's compared to '09 and '10. 2011 still flags in comparison to stronger seasons."
What it does show: Some overall growth in the market, even if the movement among individual companies is a mix of either growth or contraction, in the case of companies that moved into smaller spaces.
It also reflects a stable supply of office space, since construction of new office space is minimal. That's likely to continue, with pricing pressures on commercial buildings - which have been affected by foreclosures, like the residential market - keeping new construction priced far over the price for comparable existing space when a company is looking to buy or lease a building.
Among the six submarkets of the area, all show at least a minimal improvement over 2010.
The most dramatic percentage change is the smaller West office market, which went from 25.85 percent vacancy to 13.81, a move largely attributed to the leasing of a building by medical device maker Terumo.
The downtown Ann Arbor market - the region's third-largest, at 1.68 million square feet - went from 13.57 percent vacant in 2010 to 10.99 percent at the end of 2011.
That move, Wise said, shows that significant deals are still happening downtown and that companies that are actively leasing - namely technology firms - still value the downtown experience for their employees.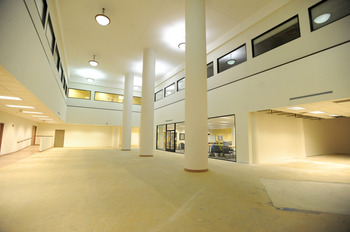 Angela J. Cesere | AnnArbor.com
Among the significant deals during 2011 were the
leasing of nearly 17,000 square feet
to
Menlo Innovations
in
The Offices at Liberty Square
. The deal triples space for Menlo and for the first time in a decade fills the office space in the former Tally Hall, which was acquired a few years ago by Ann Arbor's
McKinley Inc
.
Another key office deal was the leasing of the 3rd floor of the ex-Ann Arbor News building to Arbor Research as the building's owner, University of Michigan Credit Union, converted 20,000 square feet of the facility for a tenant.
Neal Warling of Jones Lang LaSalle, a broker on the Menlo deal, said Swisher's numbers confirm his experience with leasing in downtown.
"We're seeing a significant diminishment of available space in the downtown area particularly," he said, "and rates are stabilizing."
Most of the demand, he said, exists in the downtown blocks from about South Fifth Avenue east to the University of Michigan campus.
Those offices often fit what Wise describes as "creative space." They include traditional offices, and also lofts.
The most challenged submarket for many years has been the area's largest, the 5.6 million square feet on the south end of Ann Arbor. Those buildings are a mix of traditional offices and "flex" buildings that include offices mixed with warehouse space.
The buildings in the south have been among the hardest hit by foreclosure, and some sales have resulted in deals for leasable space at drastically low prices. That's kept the pressure on all landlords as they fought for limited pool of tenants, but today the vacancy rates is a slightly improved 15.42 percent, down from 15.81 percent.
In that market, the slight improvement is a critical step toward the area's recovery.
And as the region's highest-vacancy corridor, it still compares well to other Metro Detroit markets, where the vacancy rate has topped 20 percent in some communities, like Birmingham. In early 2011, a report from Colliers International pegged the overall suburban Detroit vacancy rate at 21.8 percent.
Brokers are still watching variety in pricing - and so are prospective tenants.
In general, Wise said, prices are not yet stabilizing.
"That's the other caveat to this optimistic vacancy report," he said. "A lot of the deals - I can't say all - were at very low rental rates."
Some landlords are telling brokers that they won't drop rates further, but others have reduced asking rates by as much as 30 percent over recent years to retain cash flow.
Tenants are still feeling pricing pressures, too, brokers said, as they try to negotiate lower rates - sometimes putting more people in space that they normally would.
"They're trying to reduce operating costs," Wise said. "Rent is a big part of that. If they can negotiate a stable rental rate, that stabilizes their business and hopefully lets them grow in the future."
Wise said he believes the vacancy rate will continue to improve in 2011, a forecast based in large part on the activity in his office toward the end of the year.
Paula Gardner is News Director of AnnArbor.com. She can be contacted at 734-623-2586 or by email.