Posted on
Thu, Oct 6, 2011 : 5:59 a.m.
How University of Michigan executives resolved their clash over startup investments
By Nathan Bomey
(See previous story: University of Michigan plans to invest in its own startup companies, Mary Sue Coleman says)
The University of Michigan's decision to invest up to $25 million in its own startup companies offers a telling glimpse at how the university is balancing its investment pursuits with a stated desire to boost the economy.
The move also revealed a private debate in which U-M executives clashed over whether the university's own spinoff companies were worthy of cash.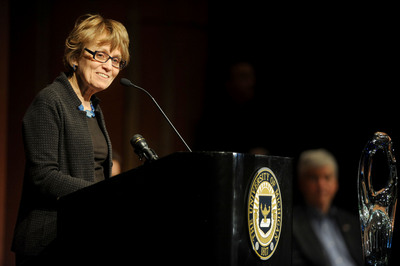 File photo | AnnArbor.com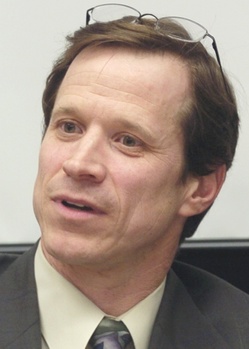 U-M President
Mary Sue Coleman
announced Wednesday morning that U-M's $7.8 billion endowment would deliver up to $500,000 to every early-stage U-M startup that has already secured venture capital from an outside source.
It's an admission that the university has missed out on past investment opportunities that would have helped its own startup companies expand — and earned the university's endowment big financial returns.
Venture capital provides crucial funds for early-stage technology companies to hire employees, invest in new products, conduct research and expand sales.
In a speech and interview Wednesday, Coleman acknowledged that the prospect of investing in U-M startups initially divided her executive team.
U-M Executive Vice President and Chief Financial Officer Timothy Slottow questioned whether investing in U-M startups would reap financial returns comparable to the endowment's other venture capital investments.
"I was very enthusiastic. He was quite skeptical," Coleman told AnnArbor.com with a laugh. "But we did the analysis and the data gave us the confidence that we could go ahead."
The analysis examined the performance of the university's startups over the past 30 years — including the 104 spinoff companies launched by the U-M Technology Transfer Office over the last decade. U-M analyzed how the university's endowment would have performed if it had invested in those startups at an early stage.
Those startups included blockbuster companies like IntraLase, HandyLab, Arbor Networks, HealthMedia and Accuri Cytometers. Collectively, those companies were sold over the last five years for more than $1.5 billion and created hundreds of jobs in the Ann Arbor area.
Local venture capitalists — including now-Gov. Rick Snyder's venture capital firms, Ann Arbor-based EDF Ventures and Ann Arbor-based Arboretum Ventures — reaped millions from several of those deals.
Even the student-run Wolverine Venture Fund, which is part of the Ross School of Business, got $1 million from a $250,000 investment in IntraLase and $2 million from a $350,000 investment in HandyLab.
In other words, the student venture capitalists made money off of the university's startups while the university's endowment stayed idle.
But changing endowment investment strategies is a long process -- because the endowment has a fiduciary duty to achieve the highest return possible for the university.
Coleman said she doesn't regret having missed out on previous investment opportunities.
"We just weren't ready. But now we are, and I think we've matured as an organization," she said in an interview. "I hope we have lots and lots of opportunity. That's what I want."
For his part, Slottow acknowledged that the university's financial analysis showed that startups created by faculty members offered a solid investment opportunity for the endowment.
"It turns out she was right again," he said of Coleman.
For the Ann Arbor venture capital community — which is effectively the headquarters of the Michigan VC industry — U-M's investment decision reflects a refreshing shift in direction.
For years, investors have been lobbying the university to invest a portion of its endowment directly in local venture capital. The endowment already invests in larger, established VC funds in places like New York, California, Europe and Asia.
Even Snyder himself has long wanted the university to invest in Michigan venture capital — although Coleman said she had not discussed this particular initiative with the governor.
Local investors applauded U-M's decision to invest in startups through the Michigan Investment in New Technology Startups (MINTS) program.
Chris Rizik, manager of the Ann Arbor-based Renaissance Venture Capital Fund, said U-M's investments could make a big difference for young startups that are struggling to secure capital to get off the ground.
"We have a lot of companies at that stage," he said.
Tim Petersen, managing director of Arboretum Ventures, which has reaped millions from its investments in the university's startup companies, welcomed U-M to the investment community.
"We've been fortunate that our returns have been driven not exclusively but in large part by some great U-M spinouts," he said. "I think they're just catching on."
Contact AnnArbor.com's Nathan Bomey at (734) 623-2587 or nathanbomey@annarbor.com. You can also follow him on Twitter or subscribe to AnnArbor.com's newsletters.