Posted on
Mon, May 3, 2010 : 6:20 p.m.
Stem cell jobs in Michigan: Inevitable or unlikely?
By Nathan Bomey
Eighteen months after Michigan voters reversed the state's restrictions on embryonic stem cell research, advocates and opponents are still debating the proposal's economic impact.
Proponents argued Monday that uncertainty about the prospect of new restrictive legislation may inhibit Michigan from reaping the economic rewards of a 2008 ballot proposal that reversed the state's ban on such research.
But Michigan's leading pro-life organization argued that Proposal 2, approved by 53 percent of voters on Nov. 4, 2008, had created no noticeable economic impact for the state.

Advocates voiced concern that social conservatives would prevent Michigan from landing federal investment leading to additional jobs in academia and the private sector. They gathered at the University of Michigan's Biomedical Science Research Building to discuss Prop 2's economic impact on the state. The BSRB is one of the few places in Michigan where scientists are conducting embryonic stem cell research.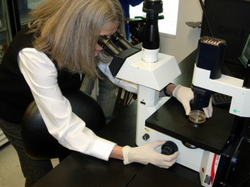 File photo | AnnArbor.com
Proponents decried a bill approved by the Republican-controlled Michigan State Senate that would require scientists to file regular reports about their embryonic stem cell research projects. The bill is unlikely to get traction in the Democrat-controlled state House.
Former Republican U.S. Rep. Joe Schwarz, who chaired the pro-embryonic stem cell research campaign Cure Michigan in 2008, said that "attempts to disembowel" Prop 2 were maddening.
"Be ever vigilant, because it's going to keep coming and it's going to keep coming and it's going to keep coming. That's simply the way they operate," said Schwarz, who formed an exploratory committee considering a run for governor as an independent. "The (embryonic stem cell research opponents) are control freaks, and sometimes I think the only reason that they do oppose it is control."
U.S. Rep. Mark Schauer, D-Michigan, a supporter of embryonic stem cell research, organized the meeting to highlight various issues confronting scientists.

Since voters approved Prop 2 in November 2008, few private sector jobs have been created in Michigan solely because of the new regulations.
The University Research Corridor - a coalition between U-M, Michigan State University and Wayne State University - houses most of the state's embryonic stem cell research.
Some 20 to 30 faculty researchers at U-M have conducted research using embryonic stem cell lines since Prop 2 was approved - and they each have about half a dozen assistants.
U-M said in spring 2009 that it would invest about $5 million to establish the A. Alfred Taubman Medical Research Institute Consortium for Stem Cell Therapies with plans to hire a few new faculty members to focus on embryonic stem cell research.
But in the life sciences industry it takes an average of 20 years and $1 billion to nurture a new drug therapy from inception to commercialization.
Ed Rivet, legislative director for Right to Life of Michigan, said embryonic stem cell research would not contribute to Michigan's economic revitalization because it could be 10 to 15 years before any meaningful advancements occur.
"That's just not good enough for investment and that's why it's not there," he said. "If there were jobs, you would have heard about it. If they had created any, they would have told you so. There was no number given, which just proves the point."
But stem cell research proponents said that the possibility that legislators in Washington or Lansing could put additional restrictions on embryonic stem cell work was creating an aura of uncertainty that is holding back investment.
U.S. Rep. Diana DeGette, D-Colorado, called on Congress to pass legislation permanently codifying regulations supporting embryonic stem cell research. President Barack Obama last year signed an executive order that reversed restrictions on federal funding for embryonic stem cell research.
DeGette said Congress needs to codify pro-embryonic stem cell research because otherwise a future, more socially conservative president could simply change regulations with an executive order.
"If we don't have a statute in place, that's still having a chilling effect on people applying for federal money to do stem cell research," said DeGette, one of Congress' most aggressive stem cell research advocates.
Jeff Mason, executive director of the University Research Corridor, described Michigan's ability to attract embryonic stem cell research investment as due to the potential of future restrictions.
"Companies and researchers are looking for certainty in terms of where research takes place and where investment occurs," he said. "It will find the path of either least resistance or where in the nation and world it's most welcomed."
Contact AnnArbor.com's Nathan Bomey at (734) 623-2587 or nathanbomey@annarbor.com. You can also follow him on Twitter and subscribe to AnnArbor.com's newsletters.