Posted on
Sun, Jan 13, 2013 : 5:59 a.m.
Still growing at 50: Ann Arbor-based Ideation gift catalog looks for the next big thing
By Janet Miller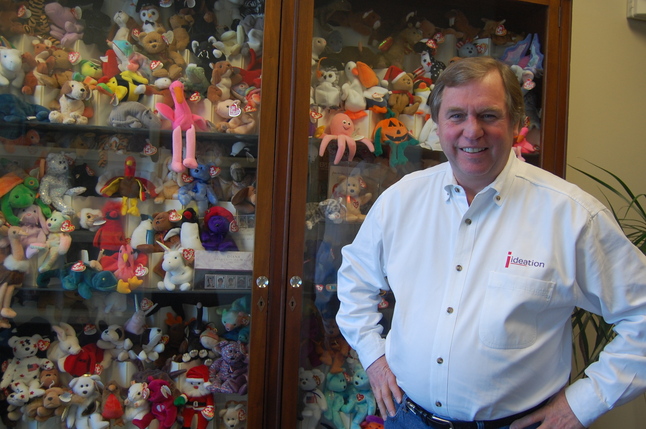 Janet Miller for AnnArbor.com
Tom Ungrodt
doesn't claim to have a crystal ball that can predict the next
Beanie Baby
craze that will sweep the nation.
But he does claim to have his pulse on shopper tastes, and that his gift catalog company, Ideation, is nimble enough to whiff out an emerging trend and respond quickly — just as it did with Bean Babies, the small plush toys that that became a national obsession for children (and their parents) in the late 1990s.
As the Ann Arbor-based company celebrates its 50th anniversary in 2013, the ability to change and diversify has kept Ideation — the first and largest gift catalog for independent retailers — at the top of its game, even through a soft economy and even as shoppers shift to the Internet.
Ideation saw revenue grow 30 percent in 2012 and expects another 20 percent in growth for this year, said Ungrodt, president and CEO of Ideation. "I was thrilled."
The idea for Ideation (defined as idea generation) began in 1963 when Ungrodt's father, along with two other gift and Hallmark Card store owners, came together to create a catalog that would market what they carried in their shops. When a retailer in Ohio asked the three men if they could print copies of the catalog for him, changing only the cover to reflect the name of his store, Ideation took root. Ungrodt's father, Paul "Skip" Ungrodt, eventually bought out his partners.
Today, more than 430 stores nationwide use at least one of the Ideation catalogs. The annual print run has grown from 30,000 copies when it was first printed five decades ago to close to 10 million copies last year. While it mostly was Hallmark greeting card stores that used the catalog when Ungrodt bought the company after his father died in 2003, he expanded its reach to independent pharmacies, floral shops and even hardware stores.
While greeting card sales have taken a hit with the advent of the Internet and email — between 30 and 40 percent of Hallmark stores has shuttered in the past decade, Ungrodt said — Ideation's diversification has allowed it to grow, he said. Today, pharmacies account for half the company's customer base.
Ideation has diversified in other ways: While it started out as a gift catalog, the company today also prints separate catalogs for toys and women's fashion.
"Our fashion area grew the fastest last year, but it's still nowhere near our gift volume, which accounts for 80 percent of our sales," Ungrodt said.
Ideation prints three spring catalogs and eight fall catalogs, and this year will roll out its I-Select program where Ideation's largest customers will be able to chose pages from each catalog to create a custom catalog that includes gifts, fashion and toys, Ungrodt said. Separate catalogs for Vera Bradley and Charlie Page fashion apparel also will debut this year.
The catalogs reflect about 20 percent of the merchandise any given store carries, Ungrodt said. Ideation negotiates with suppliers as a group, often earning better terms than an individual store can negotiate.
While nothing has emerged to challenge the heyday of Beanie Babies, a handful of gifts each year floats to the top: Snowball Fight, a Christmas-colored metal bucket filled with smiling plush snowballs was hot this holiday season, Ungrodt said. So was Hot Duct Tape Fashion, a kit for kids to decorate with wildly colored duct tape.
About 80 percent of what's included in each catalog hits its projected sales marks, Ungrodt said. But that leaves 20 percent that misses. "I call those bummers," Ungrodt said. They include Gutzy Gear, another kids kit for sprucing up backpacks. Ideation has two buyers, and may add a toy buyer next year.
While Ideation is growing, Ungrodt's has scaled back his brick and mortar stores. He closed his Jackson store after his lease expired in 2011 and downsized his Crown House of Gifts store in the Traver Village Shopping Center in Ann Arbor by 1,000 square feet last year. His father had expanded the space with the intention of adding new lines such as home accessories and toys, which never happened.
Ungrodt also owns Dayspring Gifts in Chelsea. While the stores saw modest growth, he used them to test new merchandise out in the marketplace. His main focus for growth, he said, is on Ideation.
Like most gift stores, sales have shifted from greeting cards to gifts, from 80 percent of a store's total sales a decade ago to about 25 percent now, Ungrodt said.
"There's nothing wrong with the Hallmark name, but things have changed. We've concentrated on moving into other areas, and we've continued to grow. We've widened our horizons."
The next step? Taking Ideation online. While some member stores post the catalog and sell online, Ungrodt said he wants Ideation eventually to offer an online package where member retailers can sell out of the catalogs over the Internet. That, he said, probably won't come until next year.
Janet Miller is a freelance reporter for AnnArbor.com.