Posted on
Sun, Jun 23, 2013 : 5:56 a.m.
Straight 2 Your Door: Food delivery service expands in Michigan college towns
By Lizzy Alfs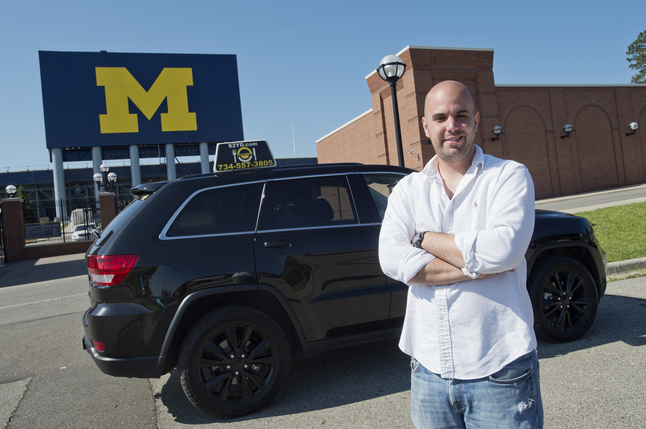 Melanie Maxwell | AnnArbor.com
Editor's Note: The spelling of Jasem Yousuf's name has been corrected.
Since Jasum Yousef became manager of Straight 2 Your Door in 2010, he says volume at the Ann Arbor food delivery service has quadrupled.
Yousuf, a University of Michigan alum, is now franchise owner of the Ann Arbor business and he's hoping he can mimic Straight 2 Your Door's success in other Michigan college towns.
He opened an East Lansing franchise in 2012, and he's preparing to open a franchise in Kalamazoo in August.
"There is a lot of potential," he said. "Especially if you spread it across three different markets."
Founded in 2006, Straight 2 Your Door operates in 11 cities in eight states. The business acts as a middleman between consumers and restaurants that don't offer delivery service.
"Ideally, restaurants give us a big enough discount on the food to allow us to sell it at face value," Yousuf explained. "For them, it's incremental revenue they wouldn't have otherwise."
By placing orders via Straight 2 Your Door, customers can get food from 37 different restaurants in the Ann Arbor and Ypsilanti areas, including Bar Louie, Miki sushi, Raja Rani, Chili's, Fleetwood Diner and Bangkok Cuisine. Straight 2 Your Door picks up the order and delivers it for a flat $3.99 delivery fee. The company advertises its maximum delivery time as 60 minutes.
"People can order from a restaurant that's on the other side of town. They might want Chili's, but live in a dorm. At dinner time, with Ann Arbor traffic, it might be an hour trip for them."
Unlike local competitors, such as Good Guys Delivery service in Ypsilanti, Straight 2 Your Door focuses on just restaurant deliveries, not convenience or grocery store items.
Yousuf said college students — who might order sushi from Miki with chicken tenders from Max & Erma's — are the business' largest demographic, although the Ann Arbor franchise also delivers to U-M hospital and businesses around town.
"We do a fair amount of business to the hospital, since people are in there working 18-hour shifts," he said. "We're starting to target young professionals with our marketing efforts."
He said the Ann Arbor franchise averages about 100 orders per day, and employs 25 delivery drivers.
"When I became manager in 2010, I saw the (Ann Arbor) business was in disrepair," Yousuf said. "There were late orders and customer service complaints. I spent a lot of time trying to fix that. …Then, naturally, our volume grew because people were more inclined to order again."
The East Lansing franchise opened in June 2012 and Yousuf said it was somewhat difficult to spread the word about service with students gone for the summer. Now, he said, business is steadily growing
He plans to open the Kalamazoo franchise in August, a couple weeks before students return. He said several national chain restaurants are partnering with Straight 2 Your Door in Kalamazoo.
"It is a lot easier to sign restaurants now," he said. "As we've grown, people can go to our website and see how many locations we're in. We have a lot of big-name restaurants, whereas before, signing a corporate chain was a really big deal."
Straight 2 Your Door operates from 11 a.m. to midnight, seven days a week.
Lizzy Alfs is a business reporter for AnnArbor.com. Reach her at 734-623-2584 or email her at lizzyalfs@annarbor.com. Follow her on Twitter at http://twitter.com/lizzyalfs.