Posted on
Thu, Oct 4, 2012 : 5:58 p.m.
Street-wear and startup icon Johnny Cupcakes to give talk at University of Michigan
By Ben Freed
It takes a very special type of person to develop a fanatic cult following by putting images of cupcakes on T-shirts.
Johnny Earle, who goes by "Johnny Cupcakes," is that type of person. Earle, named young entrepreneur of the year by BusinessWeek magazine in 2008, will be speaking at the University of Michigan Friday night as part of his nationwide "Cupcakes Coffin Tour."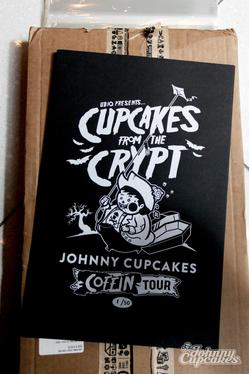 Courtesy Johnny Cupcakes
The event, hosted by the Ross School of Business
Entrepreneur and Venture Club
, features a "Cupcakes from the Crypt" pop-up shop with limited run clothing and a business lecture from Johnny Cupcakes himself featuring lessons he learned from starting his own business. Students and aspiring businesspeople also will be able to meet with Earle afterwards and get advice from the bootstrap startup guru.
"It means the world to me getting a chance to speak and teach and talk to students," Earle said.
"I just like talking to people and hearing their stories. Every event I've ever had I never leave anyone hanging even if I have to stay out until 3 a.m. Even if the school has to kick us out and closes the doors I'll keep talking with people."
Earle's personal connection with customers and attendees at his talks is what impressed U-M junior Nancy Xiao when she first saw him speak three years ago. Xiao was a senior in high school at the time, and since she came to Michigan she's been trying to bring Johnny to campus to speak to entrepreneurial students.
"I tried reaching out to his sister who manages the speaking events and tried to get him here through a College of Engineering lecture series but our dates never matched up well," she said.
"Then she called me and said he was doing another tour and we could use the university as a pit stop."
Xiao brought the idea to Entrepreneur and Venture Club co-president Lemu Coker who immediately was on board with the idea.
"When Nancy said we could get Johnny cupcakes here I said, 'It's done. Anything we need to do to bring him here we're going to do it,'" Coker said.
Earle is a popular figure in the street-wear world as well as the startup community for his message of personal empowerment and the ability to succeed without taking money from investors. While he started Johnny Cupcakes selling t-shirts out of the back of beat-up 1989 Toyota Camry, he now runs stores in Boston, Los Angeles, and London and has a loyal following that includes people with Johnny Cupcake tattoos.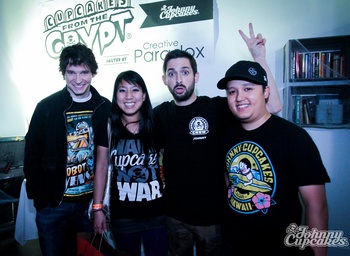 Courtesy Johnny Cupcakes
All of Earle's shirts include his famous cupcake, often in amusing juxtapositions such as being dunked in an "Air-Jordan" spoof or replacing a Molotov cocktail in the hands of a protestor. His lectures also have consistent themes, generally focusing on following your ideas wherever they take you and surrounding yourself with a positive support network.
"The more time you put into your business, your idea, your passion, the more results you'll get out of it," Earle said.
"Some of my customers, some of these kids are in school, they're mixed up and they're not sure what they want to do or how to manage their time. I try to present in a fun, funny, and clear way a path that worked for me. It's been working pretty well."
Earle said he often advises college students to take fewer classes and focus on internships and first impressions that can lead to future business opportunities.
"Everyone should have a business card whether they have a business or not," he said.
"If someone gave me a business card and they were trying to get a job and didn't have one yet I think that's awesome. If they're so organized that they have a business card with no business imagine what they'd be able to do if I hired them."
Xiao and Coker both said they expect a large turnout to the event. Coker reserved a 300-person auditorium, and says he hopes that it will be big enough to hold the crowd. The event will be in the East Hall auditorium on Church Street beginning at 7 p.m. and is free and open to the public. Ben Freed covers business for AnnArbor.com. Reach him at 734-623-2528 or email him at benfreed@annarbor.com. Follow him on twitter @BFreedinA2