Posted on
Sun, Jul 22, 2012 : 5:59 a.m.
What's next for the student housing project proposed for Grace Bible Church site in Ann Arbor?
By Lizzy Alfs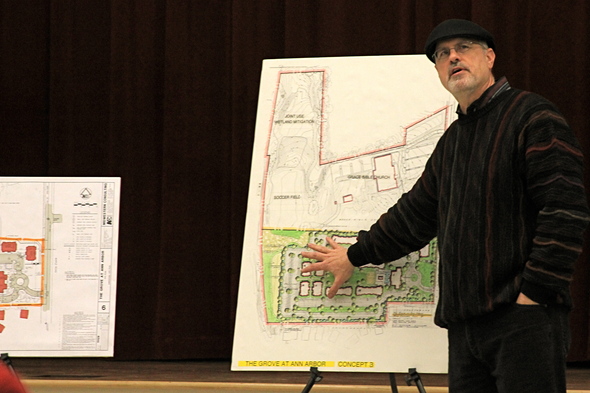 AnnArbor.com file photo
Plans for
The Grove
— a student housing project proposed near Ann Arbor's South Maple and Pauline Boulevard intersection — are on hold while the developer appears to consider other locations.
The project is for a 15-acre site just south of the Grace Bible Church building off South Maple. The church owns the property and has it listed for sale at an undisclosed price.
In January, North Carolina-based developer Campus Crest Communities proposed the construction of 10 to 12 three-story apartment buildings, totaling about 224 units each with two or three bedrooms.
The project is part of Campus Crest's branded 'The Grove' developments across the country.
The group operates 33 student properties in 18 different states. The "resort-style" compounds offer a variety of high-end amenities, such as volleyball courts, a fitness center, a pool and bistro.
But when the Ann Arbor project was proposed to nearby residents in January, it was met with resistance.
About 50 members of the community attended two public meetings held earlier this year while the developer pitched the project.
Attendees raised a handful of concerns. Most notably, people were concerned about the site's distance from the University of Michigan campus.
"This just doesn't seem to make any sense," one resident said in January. "I mean, why bring [students] out here? I think this is some kind of a dream that somebody thinks they can rent these things out."
Another added: "Bottom line is we moved into this neighborhood to get away from campus. With you building right there, we all just might as well move back downtown."
Among the other issues cited: stormwater management, water pressure issues, traffic and transportation, home values, safety, and whether the demand for student housing can support another apartment project.
Perhaps in response to the concerns raised at the public meetings, a local architect working with Campus Crest indicated the development may not move forward at this site.
"(The) project is on hold," said Brad Moore of J Bradley Moore & Associates, via email. "(The developer is) talking to another potential site owner — a site a bit closer to campus."
Moore declined to provide additional details about the developer's plans. Campus Crest representatives did not respond to multiple requests for comment.
City planner Matt Kowalski said, via email, the City of Ann Arbor has heard "absolutely nothing" from The Grove developer since the public meetings.
"I have heard from a representative they are no longer pursuing the project," he said.
The site on South Maple Road was first a target of development when the controversial 42 North project was approved in 2008. Plans for the student apartment complex included five buildings, 120 units and 494 parking spaces. It fell apart when the housing market went soft and the site plan expired in late 2011.
Lizzy Alfs is a business reporter for AnnArbor.com. Reach her at 734-623-2584 or email her at lizzyalfs@annarbor.com. Follow her on Twitter at http://twitter.com/lizzyalfs.