Posted on
Sun, Apr 21, 2013 : 5:58 a.m.
Student startup marketplace opens in bottom floor of Michigan Union
By Ben Freed
Daniel Brenner | AnnArbor.com
Student startup companies have a new a stepping-stone to bring their products and ideas to market. The
VEX Venture Exposition
in the
Michigan Union
gives budding companies started by
University of Michigan
students a place to showcase and even sell their products to other students and members of the university community.
The catalyst for the new student-run marketplace was a pitch entered into a competition it had no chance of winning.
"I put out the idea as part of the '1,000 Pitches' competition, but I was a director of the program so I couldn't really win," Cathy Huang said.
"But [Central Student Government president] Manish [Parikh] really, really liked the idea. He's been really supportive of entrepreneurship during his leadership and he told me 'Cathy, if you can get a team to mobilize and do this, I will help fund it.'"
Huang, who is on the executive board of entrepreneurship-minded student group MPowered, has a team of about 15 people who have helped bring VEX to reality. The group has transformed the former office of STA Travel Agency into a hub of startup activity.
"We have 13 startups in here already and we have representation from TechArb, Tech Transfer, the Zell Lurie Institute in the business school and the Center for Entrepreneurship in the engineering school," Huang said.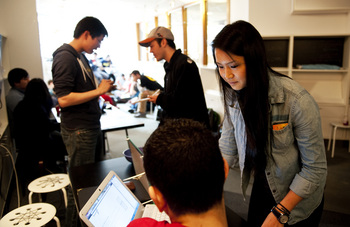 Daniel Brenner | AnnArbor.com
The startups ranged from online companies standing by laptops and showing off their websites to the
Beet Box
, a student-run concept that runs a food cart at Mark's Carts.
"We're trying out a grab-and-go concept here in VEX," co-founder and U-M senior Alex Perlman said.
"It's a great way for us to test out what people want from pre-prepared food in a small setting. Also, if you have packaged food it seems much more reputable than just someone serving it out of a cart. We'd love to eventually be in a number of locations around the city."
Many of the startup companies only will be selling their products during the Sunday "showcase" hours, but the Beet Box will be open daily in the space from 10 a.m. to 4 p.m.
Huang said the space is intended to be for later-stage startups who are prepared to sell their products and the original idea was for people to set up "store-fronts."
"We realized quickly that it was a little too much to ask for these entrepreneurs to be selling every day because they are, after all, students," she said.
"So we shifted the model to having Sunday from 3 p.m. to 7 p.m. as a selling day. For the rest of the week VEX will be open from 10 a.m. to 2 a.m. as a workplace. So entrepreneurs or just any other students can come in and work."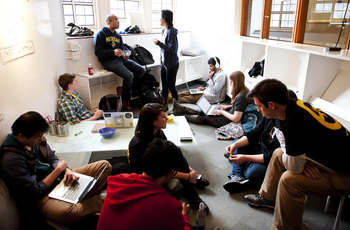 Daniel Brenner | AnnArbor.com
Bringing entrepreneurs into close proximity is not a new concept in the startup community. Startup incubators and accelerators thrive on the idea that a community of driven people will help each other succeed in their projects.
While Ann Arbor's Tech Brewery and the University of Michigan's TechArb are examples of this concept, Huang said VEX will be different because there are no barriers to entry.
The space opened for the first time April 14 on the tail end of U-M's first Month of Entrepreneurship. The month, a project of the student government's entrepreneurship commission, really was more of a seven-week period that featured nearly 40 events put on by 18 different student organizations.
"Our belief is that entrepreneurship is not just for the 10 percent or 20 percent of the student body that's in the engineering school or the business school," Parikh said.
"The spirit of innovation can be used by the entire student body. The goal of this month was to touch every student through some event or an email or by them reading an article about it. We have caused a mindset change and that's really exciting."
Big dreams often walk hand in hand with entrepreneurship and most student startup founders dream of becoming the next "big thing." Before they make it on a national or global scale, VEX gives these budding startups the opportunity to focus on customer discovery at a hyper-local scale.
"It's not really entrepreneurship unless you're able to connect with customers, and this gives students a built-in place to do that," CSG vice president Omar Hashwi said.
"This is a perfect way for students to really get their businesses and products out there in a way that's never been done before on campus."
Everyone involved said VEX is in an experimental stage for now, but could become a permanent fixture in the university's entrepreneurial ecosystem as early as next fall.
VEX is open as a workspace from 10 a.m. to 2 a.m. daily and as a showcase and marketplace from 3 p.m. to 7 p.m. on Sundays. The space is located in the bottom floor of the Michigan Union.
Ben Freed covers business for AnnArbor.com. You can sign up here to receive Business Review updates every week. Reach out to Ben at 734-623-2528 or email him at benfreed@annarbor.com. Follow him on twitter @BFreedinA2