Posted on
Mon, Dec 5, 2011 : 5:58 a.m.
Sugar gliders: $700 pocket-sized marsupials briefly sold at Briarwood Mall
By Lizzy Alfs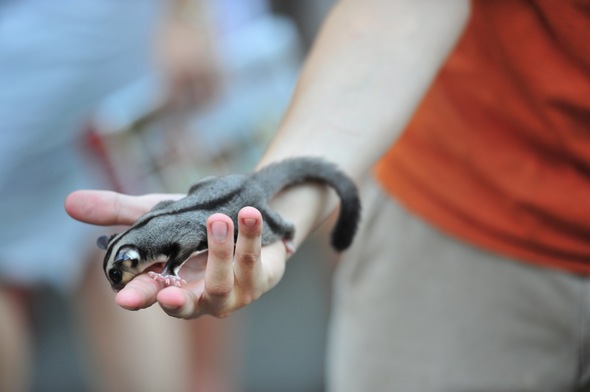 Ryan Stanton | AnnArbor.com
Sales on appliances, electronics and apparel at
Briarwood Mall
weren't the only thing drawing shoppers' attention last weekend.
Outside the Sears department store, a vendor recently spent four days selling an animal called a sugar glider.
A Florida-based company called Pocket Pets set up shop the weekend after Thanksgiving near the entrance to Sears to demonstrate and sell sugar gliders, which are small, gliding marsupials in the same general family as a kangaroo or koala bear.
The company sells the exotic animals at malls throughout the country.
The Pocket Pets website - which calls sugar gliders "perfect pint-sized pockets of fun" - says the animals eat almost anything that is sweet, especially fruits and vegetables.
Similar to a flying squirrel, they have a "gliding membrane" that allows them to glide from object to object.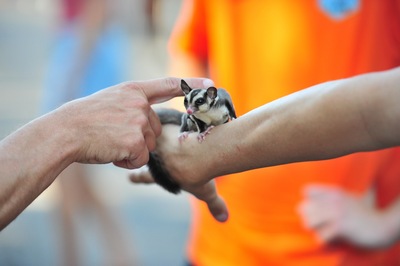 Ryan Stanton | AnnArbor.com
The Sugar Gliders at Briarwood cost $685 for a total kit, which includes information and instructions on how to care for the animals, said Denise Murray, director of marketing and business development for Briarwood Mall.
This isn't the first time the animals have been sold at Briarwood. Pocket Pets made its first appearance at the mall in June, before selling the animals four days over Thanksgiving weekend.
Murray said the demonstrations in Sears usually garner interest from shoppers, with 10 or 15 people around the kiosk at any given time.
But in some areas of the country, there are petitions circulating to block Pocket Pets from selling sugar gliders. An online petition based out of Maryland claims the animals require more time to care for than Pocket Pets lets on and says the animals are prone to diseases when living in captivity.
Akshay Verma, a University of Michigan student and director of U-M's Michigan Animal Rights Society, said the animals are not meant to be domesticated.
"They cannot thrive in people's homes, especially if behind bars all day," Verma wrote in an email. "People need to ask themselves why they want a 'pocket pet,' where the animal came from, and what they are going to do when they no longer want the animal."
When asked if Pocket Pets will return to Briarwood to sell sugar gliders, Murray said the mall strives to offer programs that add value to shoppers' experience and continually evaluates these programs.
"It has not been determined if the sugar gliders will return," she continued.
Lizzy Alfs is a business reporter for AnnArbor.com. Reach her at 734-623-2584 or email her at lizzyalfs@annarbor.com. Follow her on Twitter at http://twitter.com/lizzyalfs.