Posted on
Mon, Sep 3, 2012 : 5:58 a.m.
'Tattoo spa' leaving Briarwood Mall to open new studio on Ann Arbor's North Main Street
By Lizzy Alfs
Less than a year after joining forces to open a spa, tattoo and piercing studio at Ann Arbor's Briarwood Mall, mother and daughter entrepreneurs plan to move their studio to North Main Street.
AnnArbor.com file photo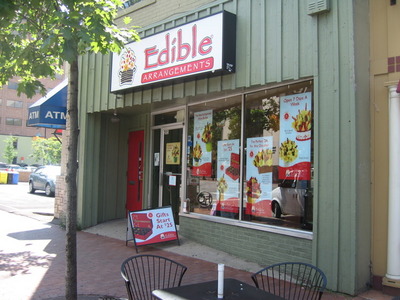 Photo from cpix
Mother Kathy Champagne and daughter Tiffany Cole were on a month-to-month lease for a 700-square-foot space at Briarwood. When they wanted to expand their studio, named A Unique Design, they didn't have any options, Champagne said.
"We were doing a temporary lease to see how things were going…I just think the tattoo thing wasn't going along well at the mall."
Champagne and Cole signed a lease for the 1,518-square-foot space at 205 N. Main St., which formerly was occupied by Edible Arrangements. That store relocated to Washtenaw Avenue after a grease fire at the neighboring Sheesh restaurant damaged the building. Sheesh never reopened after the fire.
The space at 205 N. Main was listed for lease with Swisher Commercial's Ronald Dankert and Joe Palms for an annual $22 per square foot. Morris and Carol Krawitz own the building, according to city documents.
Palms said the space has since been brought up to code and repaired.
"(The location) was just perfect for us," Champagne said. "It has good parking, it's very large and open and spacious. I think it's going to be a good location for us to build our business."
She said business at A Unique Design has taken off in the past nine months. They've expanded their client list and become the go-to "family tattoo parlor," she said.
"We just feel that the market is really underdeveloped in Ann Arbor and we have a family atmosphere," she said. "Our clientele is very diverse: we have a lot of older clients and a lot of younger kids that come in with their parents."
Customers can expect some changes in the business model when A Unique Design opens in the downtown area in the next couple weeks.
Instead of a spa merged with a tattoo and piercing studio, it will be strictly the latter.
Champagne is going to return to her job at Tricho Salon and Spa — where she worked as a trainer for years — and she'll also help run the new tattoo and piercing studio.
"Everybody is going to have their own booth and stations (at the new space)," she said. "(At the mall) it was very tight."
For specials and updates on the move, vist A Unique Design's Facebook page.
Lizzy Alfs is a business reporter for AnnArbor.com. Reach her at 734-623-2584 or email her at lizzyalfs@annarbor.com. Follow her on Twitter at http://twitter.com/lizzyalfs.