Posted on
Thu, Mar 4, 2010 : 5:48 a.m.
Ann Arbor's technology community finds unique office home in Tech Brewery
By Paula Gardner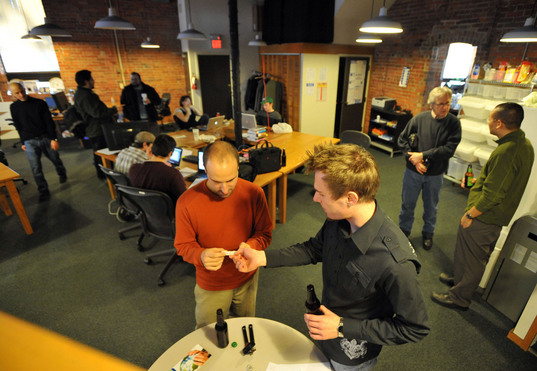 Mark Bialek | For Ann Arbor.com
Ann Arbor's technology entrepreneurs chose office space in the Northern Brewery building on Jones Drive over the years because of its location, its historic loft-like offices and its reputation as a creative hub.
But for nearly a year, a portion of the building has been building its own identity as a unique collaboration among many early-stage companies.
Mark Bialek | For AnnArbor.com
Dubbed the 
Tech Brewery
, a vacant 2,000-square-foot space now offers short-term desk space in a collaborative environment that makes it unique among Ann Arbor offices.
Most office incubators provide services and shared resources, founder and entrepreneur
Dug Song
said.
"That's not really what we're doing here," he said. "…There's a lot more social interaction. More synergistic relationships, since there are a lot of companies doing similar kinds of things."
Those companies are largely technology-oriented - hardware, software, and "some in between," Song said.
The Tech Brewery started as a way to use office space between tenant occupancies, said Doug Smith, owner of the 14,000-square-foot building.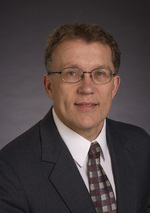 But the space has evolved into a place where the participants share an entrepreneurial spirit that drives their respective technology-based ambitions.
"It's almost a collective," Smith said.
The relationship between Song and Smith makes that possible.
Both agree that each was able to see the potential for the space and the need it would fill. The result stems from economics and convenience for Smith and Song.
And each contributes to making it possible: Song set up a Web page and easy-pay format on PayPal. Smith lets the leasing happen without long-term commitment, and values that it keeps him from looking at a 2,000-square-foot vacancy in a down market.
"I also just like it," Smith said. "I get a kick out of the entrepreneurs in this town, and all of the entrepreneurial energy and risk-taking that goes on in Ann Arbor."
The Tech Brewery evolved out of the growth - then downsizing - of Song's former employer, Zattoo Inc.
The Internet company grew quickly over recent years - and it leased space in the Northern Brewery building as it needed additional offices.
But then changes in the European market affected its business, and Zattoo trimmed itself to about five people.
"With the rest of the office space, we worked for some time to figure out what we'd do with it," Song said.
He realized that many people who were leaving the company, including himself, we going to launch new ventures. He also valued the best incubator concepts in places like Boston and San Francisco, where the creative environments helped nurture dozens of startups per year.
So he approached Smith about using the space - a larger, corner room with high ceilings, lots of windows and open work tables - as a place where like-minded people could work with little commitment and cost.
So far, about 20 people regularly use the space - including a tech-oriented law firm, which offers free advice to others in the Tech Brewery.
The effects extend beyond office space, Song said. It's also expanding the tech community's proximity to the region's venture capitalists, one key to the ultimate goal of cultivating startup growth.
"The real benefit for folks is that it's not cheap infrastructure," Song said. "You can get that from home.
"There's a small community here where you can share resources and advice."
There's a fluidity to the occupancy that, Song said, is there by design. No one signs long-term leases. There are no keys issued for the part-time rentals. It's a first-come, first-serviced model.
The affordability for users is an asset of the space, both Song and Smith said: A part-time desk rental runs $50 per month. A full-time desk rental is $200. Two desks cost $300 per month.
And one benefit to Smith is the potential that tenants can grow into additional building space. One recent example was a tenant who leased a 400-square-foot suite after participating in the Tech Brewery.
The best fits for the space enjoy the collaboration, Song said. More independent types are pointed toward the Workantile Exchange on South Main Street.
Despite the success during the first year of the Tech Brewery, its future is uncertain, Smith said.
The economy's slide- and average regional office vacancy of about 16 percent - give Smith a reason to appreciate the relatively stable use of the space in its current form.
He has it listed, and the tenants know that a company willing to make a long-term commitment could push them out. That's part of the agreement between Song and Smith.
But Smith also sees the concept growing and says it could reach the point where it's just as viable to keep it in its present form.
In the meantime, Song says the sense of community continues to build, including during weekly happy hours every Friday.
"It's more interesting to have a more dynamic office environment," Song said. "It makes it more fun to come to work."