Posted on
Tue, Nov 1, 2011 : 2:59 p.m.
Technological upgrades define University of Michigan's new Mott Hospital
By Nathan Bomey
Melanie Maxwell | AnnArbor.com
Related story: A look inside the University of Michigan's new Mott Children's and Women's Hospital for the first time
Photo gallery: Images from the media tour of the new C.S. Mott Children's Hospital
To walk through a hospital that cost more than three-quarters of a billion dollars to construct is to stroll through a pristine facility where world-class health care and medical technology belong.
The University of Michigan Health System's new C.S. Mott Children's Hospital and Von Voigtlander Women's Hospital reflects the industry's most advanced technology and medical facility design — centered on patient needs, family wishes and clinician desires.
The hospital — which was shown off to media for the first time today and is expected to open Dec. 4 — is truly state of the art.
During the media tour, the technology, artwork, patient rooms and beautiful, sweeping views of Ann Arbor were on full display.
But for a moment during the tour, something old-fashioned stole everyone's attention. A fire alarm went off throughout the building, surprising everyone.
"Oh, I'm sorry," apologized Loree Collett, the associate hospital administrator and operational lead for the expansion project. "We're testing fire alarms. Not to worry."
The fire alarm — albeit momentarily distracting to the crowd of public relations officials and reporters — also brought clarity.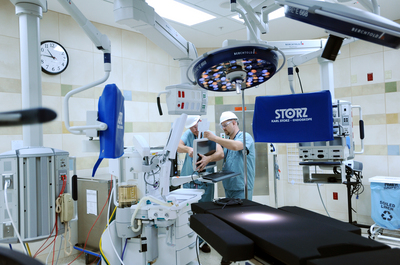 Melanie Maxwell | AnnArbor.com
After all, this is a place where schoolchildren will be cared for. And what's a building for school kids without an occasional fire drill?
It was a decidedly low-tech memory to punctuate a high-tech day.
The new facility, which cost $754 million and took five years to construct, has 348 inpatient rooms, 50 maternity rooms, 48 neonatal intensive care rooms, 15 operating rooms that will be open right away and another 5 that will open eventually.
The new facility includes a 12-story, 855,000-square-foot inpatient tower and a 9-story, 245,000-square-foot clinic facility.
Technologically, one of the key reasons the new facility marks a major upgrade is, to put it simply, because upgrading is now much easier.
"We know we will live in this facility close to 50 years, so we tried to be as flexible as possible since we don't know what care will be like, probably in five years but for sure in 50 years," said Pat Warner, executive director of the hospitals.
The hospital has an "open MRI" unit — which generates the same images as a traditional MRI but provides more space to the person being tested.
"That's a feature that's really very important for the pediatric population," Warner said. "It should be able to decrease the amount of sedation we give the children because they'll be able to pick their video while they're getting their MRI and probably stay still."
One key technological improvement is yet to come. The hospital also expects to install an operating room MRI that will allow surgeons to monitor MRI images of a patient during surgery.
"For instance, when neurosurgeons go in, they're going off an MRI that was done previous to that surgery," Warner said. "If they're trying to take out a tumor, they use their best experienced eyes, but what this will allow is to do the MRI before they close the patient to make sure they've gotten everything out."
On the hospital's 11th floor, the congenital heart care unit — which the hospital considers one of its premier programs — has a cardiac catheterization laboratory containing a specialized robotic device that allows surgeons to treat children's heart arrhythmias more efficiently.
"This is a stereotactic way of driving catheters in a very robotic way," said John Charpie, a doctor in the congenital cardiovascular care unit . The doctor sits at a table a few feet away from the patient and uses a joystick to direct "all the equipment over here to move the catheters within the heart, exactly the location they need to treat the arrythmias. This is a remarkable advance — and our physicians are currently working with simulators to develop the expertise to move catheters to the various locations in the heart."
Marie Lozen, a doctor in the hospital's expanded pediatric emergency department, said the hospital's advanced air-quality circulation system will help reduce the number of hospital-acquired infections — especially for patients who are particularly sensitive to infections, like chemotherapy patients.
Contact AnnArbor.com's Nathan Bomey at (734) 623-2587 or nathanbomey@annarbor.com. You can also follow him on Twitter or subscribe to AnnArbor.com's newsletters.