Posted on
Mon, Jan 9, 2012 : 5:59 a.m.
Frozen yogurt shop to open on East Liberty Street in downtown Ann Arbor
By Lizzy Alfs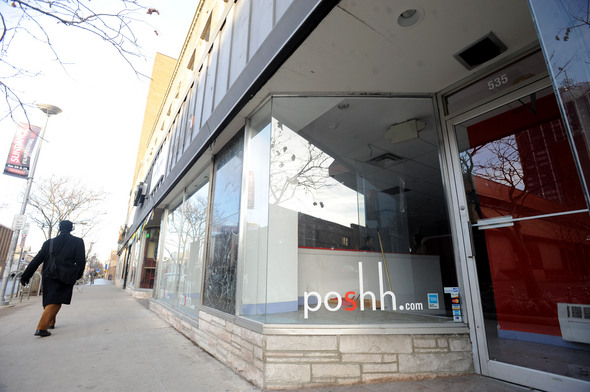 Angela Cesere | AnnArbor.com
The former Poshh space on East Liberty Street in downtown Ann Arbor has a new tenant: a frozen yogurt shop named Yoggie's.
Owner Kevin Kajy recently signed a lease to move into the space at 535 E. Liberty St., which was vacated by Poshh women's clothing boutique two months ago.
Mike Giraud and Randy Maas of Swisher Commercial marketed the 1,350-square-foot space for an annual $39 per square foot.
Kajy plans to open Yoggie's by April 1, after completing renovations on the space.
The pay-by-weight store will offer about 12 different flavors of frozen yogurt and 60 toppings.
"There will be all different flavors, like sugar-free and no carbs, and toppings like fresh fruits, Oreos, Snickers, peanuts, hot fudge and caramel," Kajy said.
He added: "Everyone likes a treat and [frozen yogurt] isn't as fattening as regular ice cream, so I think everyone will enjoy it."
He said the frozen yogurt and toppings will probably cost 45 to 49 cents per ounce. There will be seating for about 24 people, and Kajy and his family will run the shop.
A West Bloomfield native, this is Kajy's first yogurt business, but his family owns gas stations and supermarkets in the Metro Detroit area.
He chose downtown Ann Arbor for his latest business venture because of the high traffic count and the mix of students, business people and residents.
The location on East Liberty Street, he said, was perfect because of the proximity to State Street, the Maynard parking structure and the Michigan Theater.
Giraud and Maas of Swisher said they had interest in the space from both food and retail users.
Giraud said Kajy's plan seemed "reasonable" and he has the experience of opening a business.
"We had people that were interested that had either, you know, no experience in running a business or were under-capitalized," he said.
"[Kevin] came to us with a very clear idea of what they wanted to do with the space," he added. "It's going to be very nice, it's going to be clean and it's going to be bright."
In recent years, two other frozen yogurt shops opened near the University of Michigan campus - Swirlberry on South State Street and Yogo Bliss on South University Avenue.
Swirlberry closed to make room for CVS Pharmacy and Yogo Bliss has also closed.
There is frozen yogurt available at Amer's Mediterranean Deli on South State Street and lab cafe on East Liberty Street. The nearby Stucchi's and Ben & Jerry's ice cream shops are also located on State Street.
But Kajy said he isn't too concerned about the competition.
Maas added: "They were very well aware of the competition in the area. That didn't seem to bother them at all."
Lizzy Alfs is a business reporter for AnnArbor.com. Reach her at 734-623-2584 or email her at lizzyalfs@annarbor.com. Follow her on Twitter at http://twitter.com/lizzyalfs.