Posted on
Mon, Jul 1, 2013 : 10:57 a.m.
Terumo sells DuraHeart technology to California-based Thoratec Corp. for $13M
By Ben Freed
Terumo Medical Corporation recently sold the DuraHeart II system, developed by Terumo Heart in the Ann Arbor area, to California-based Thoratec Corporation for $13 million in cash and potential future milestone payments.
Employees who had been working on the system, which offers long term circulatory support for patients awaiting heart transplants, will continue to do so at their Scio Township offices, according to a press release from Thoratec.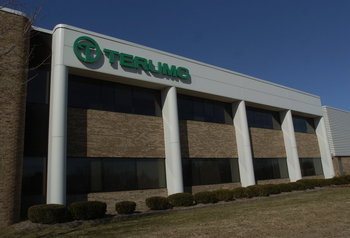 File photo | AnnArbor.com
According to the release, Thoratec expects to make the first implant of a DuraHeart II pump into a human in 2016, followed by clinical trials both in America and around the world.
"Terumo believes that the transfer of the development of DuraHeart II to Thoratec is the best and fastest way to commercialize the technology and to ensure access for patients in Japan, the U.S., and the rest of the world," Yutaro Shintaku, president and representative director of Terumo, said in a statement.
Terumo Heart spokesperson Robert Murphy said the company will take several weeks to figure out how it will restructure after the deal.
There are still patients using the first DuraHeart model, and Murphy said the company will continue to provide customer care and support.
"The longest running patient on our support system has been on it for over seven years," he said. "So they're in it for the long haul and so is Terumo."
Terumo Heart is a wholly owned subsidiary of Japan-based Terumo Medical Corporation and is headquartered in a 64,700 square foot building on the Terumo campus in Scio Township. A $3.6 million expansion of the company's offices and manufacturing space was completed in 2009.
Terumo Cardiovascular Systems, a Terumo subsidiary that grew out of Sarns Inc., occupies two buildings on the same campus.
Marketing and communications director Melinda Yaklin said the larger company, which employs approximately 600 people, would not be affected at all by the deal.
Murphy said it is still too early to know what Terumo Heart's restructuring plans will entail.
"There is an amount of uncertainty because all of the answers aren't in place," he said. "But Terumo Heart is committed to the Ann Arbor community."
Parent company Terumo Medical Corporation employs 12,000 worldwide and makes more than 1,200 products.
Thoratec (NASDAQ: THOR) reported revenues of $117.7 million for the first quarter of 2003. As of 11 a.m. Monday morning, the company's stock was up 1.37 percent on the news of the DuraHeart II acquisition.
Thoratec Corporation could not be reached for comment on this article. More information will be added as it becomes available.
Ben Freed covers business for AnnArbor.com. You can sign up here to receive Business Review updates every week. Get in touch with Ben at 734-623-2528 or email him at benfreed@annarbor.com. Follow him on twitter @BFreedinA2