Posted on
Fri, Jun 21, 2013 : 6:58 a.m.
The art of the pivot: How entrepreneurs react when things go wrong
By Ben Freed
I first learned to pivot while playing in the youth basketball league at the YMCA.
Keeping one foot grounded to avoid a traveling violation — a frequent problem for 6 year olds — a player can pivot by twisting and turning their body to find new and better vantage points for a more open shot or pass.
For startup companies and entrepreneurs, pivots can be slightly more painful and dramatic experiences. Typically, a pivot occurs when the founders' original idea runs up against a wall.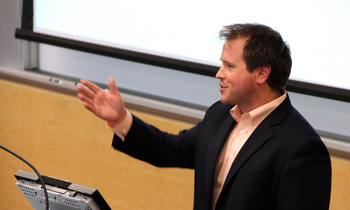 Ben Freed | AnnArbor.com
"It can be very demoralizing," said
John Springmann
, a University of Michigan Ph.D. candidate.
"We felt really stuck. At that point we were thinking 'what are we supposed to do?' The idea didn't work so we were re kind of out of luck."
Springmann, along with fellow Ph.D. candidate Ben Kempke, is a participant in the first Michigan I-Corps program. The six-week course, which culminated with team showcases Tuesday at the U-M Ross School of Business, pushes researchers with new ideas and inventions to aggressively seek-out potential customers to determine the true demand for their products.
I-Corps is funded by the National Science Foundation and operated by the Center for Entrepreneurship in the College of Engineering. The program first came to the U-M in 2012, when teams from across the country came to Ann Arbor to participate in the program. The most recently completed course was the first to be made up entirely of teams from the state of Michigan.
Springmann and Kempke are two satellite experts who initially thought there was a market for ground stations that could communicate with smaller satellites in orbit.
"But we found that the market for that technology will probably be there in the future, but it really just isn't mature enough yet for a scalable company," Springmann said.
As part of I-Corps — short for Innovation Corps — a business mentor accompanies each team and helps them "pivot" to new markets, as well as customers, when the going gets tough.
Justin Dimmel and Patricio Herbst, both researchers at the U-M School of Education, have pivoted a number of times with the help of their mentor Brice Pilz. The animated training software the pair created originally was meant for teachers, but they attempted to sell the system to hotels for personnel training.
"For me the hotel industry ended up as a sacrificial draft," Herbst said.
"We went there because we thought that we needed a market that controlled its own disposable cash… The thing that made me realize that it probably wasn't going to work was that our technology is based on simple graphics and they were looking for extreme detail."
Dimmel said the team, working under the name ScenarioSketch, has returned to the education spectrum, where there is evidence that extremely high levels of realism in simulations do not guarantee better results.
"The folk wisdom we're up against is that the best thing would be some kind of virtual reality first person environment where the situation is almost re-created pixel by pixel," he said.
"You don't want to enter a market where the first thing you have to do is spend half an hour arguing with your customer that what you will actually do the job."
Springmann and Kempke have taken a different track. Faced by the lack of an available market, they went back to the drawing board and pulled out a different technology to market. They are now back in customer-discovery mode, looking to sell data collected by small satellites to large telecommunication companies.
"Luckily, it seems like you hit the wall fast," program director Jonathan Fay told the team during their presentation.
While in most situations that might not sound ideal, in the entrepreneurial world, it means the 'no-go' decision was handled both quickly and efficiently.
"Not every good idea is a viable business," program coach Adrian Fortino said.
"Having a 'no-go' come out of the I-Corp experience can be an extremely positive outcome."
Having founded of a number of both successful and unsuccessful startups, Fortino has realized the value of knowing when something is not going to work as originally planned. Now an investor with the First Step Fund in Detroit, he works with startups to navigate the customer discovery process, which can be jarring for innovators who are not used to the world of entrepreneurship.
"The mood-swings in customer discovery are huge," Springmann said.
"You can have a conversation with one customer who says what you're doing is good and you're think 'this is going to work!' Then the next day you talk to someone who says it's not going to go anywhere and it can really knock you back down."
What can you say? The best laid schemes of mice and men often go awry.
Similarly, the best ideas of entrepreneurs often do not realize their intended market value. It doesn't mean they aren't good ideas — they might just need a little pivot.
Ben Freed covers business for AnnArbor.com. You can sign up here to receive Business Review updates every week. Get in touch with Ben at 734-623-2528 or email him at benfreed@annarbor.com. Follow him on twitter @BFreedinA2