Posted on
Thu, Dec 1, 2011 : 12:48 p.m.
Chocolate House of Ann Arbor on South Main Street to shut down this month
By Lizzy Alfs
The Chocolate House of Ann Arbor, located at 330 S. Main St. next to the Prickly Pear Southwest Cafe, will close for good by Dec. 24, said co-owner Jacob Smith.
The building, which is owned by Terry Wolf, has a sign in the window announcing that the space is available for lease.
The decision to close, Smith said, came as the business struggled to turn a profit.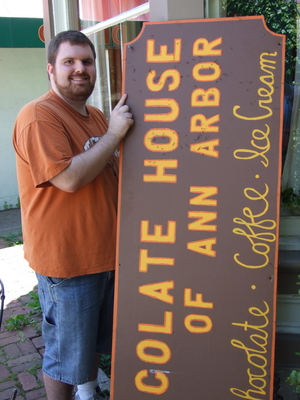 File photo
"The biggest thing that made us really decide to close it was that the store can support itself and can make itself go month to month, but it's not bringing in any profit at all," he said.
"Heading into the winter, business dives off terribly," he continued. "Bad weather kills us. We don't want to basically dig ourselves into a hole. We figured it's better to cut our losses and get out."
The ice cream, chocolate and coffee shop has undergone various name and ownership changes in the past few years. In 2009, former owner Vicki Ponitz sold the business to her nephew and it reopened under the name Carillon Chocolates.
Then, Carillon Chocolates closed and Smith, a former Chocolate House employee, and Aaron McRae took over a week later, renaming it The Chocolate House of Ann Arbor.
But what seemed like a great opportunity to own and operate a business quickly deteriorated as competition took customers away from The Chocolate House, Smith said.
"There's just way too much competition," he said. "There are three other chocolate shops downtown and a Starbucks right around the corner from us. Customers come in every day drinking their Starbucks and spend maybe 80 cents on candy."
He said the franchise coffee and candy shops draw more customers because tourists flock toward recognizable brands. They also don't run out of products as quickly as The Chocolate House, he said.
"We have to make everything in the store, all the time," he said. "And so daily we will have customers who are expecting certain things, and they get upset if we run out of something. We don't have boxes of stuff stocked in the back."
But there are loyal customers who love The Chocolate House, Smith added.
"The customers who try our stuff, love it," he said. "We do have a loyal customer base and people who have come in here for years. We just don't seem to be picking up any new people."
When The Chocolate House of Ann Arbor closes by Dec. 24, 4 employees will lose their jobs. And although Smith will miss seeing his coworkers every day, he said he's just ready to move on.
"I guess I don't feel that badly about it closing, because I did my best," he said. "When I took over at 23 years old, I tried something that most people will never try. I'd be lying if I said it won't be kind of a relief to get to live my own life again."
Lizzy Alfs is a business reporter for AnnArbor.com. Reach her at 734-623-2584 or email her at lizzyalfs@annarbor.com. Follow her on Twitter at http://twitter.com/lizzyalfs.