Posted on
Sat, Mar 6, 2010 : 11:14 p.m.
The end of an era: The John Leidy Shop closes after 58 years in business
By Lon Horwedel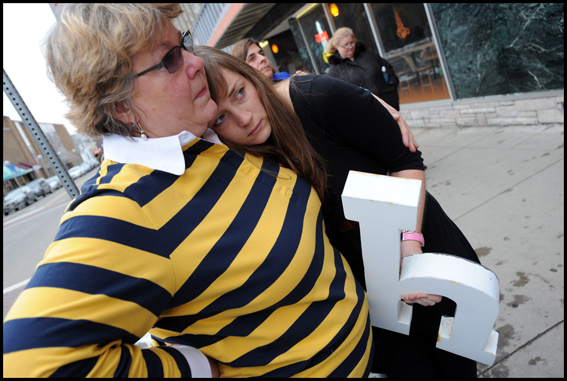 John Leidy couldn't have known it would have been like this.
He couldn't have known that hundreds of townsfolk, and quite a few from out of town, would stop by say goodbye to the gift shop he started back in the late fall of 1951, as it closed its doors for good last Sunday after 58 years in the business.
He couldn't have known that a store stocked with inanimate table settings, crystal and other fine gifts porcelain, could be filled with such warmth … but it was.
How could it not be?

The store was built on the premise of customer service, and anyone in Ann Arbor who knew John Leidy, will gladly tell you he was the kindest man you'd ever want to meet. And that goes double for his five children, including his youngest daughter Liz, who took over the store after her father's death in 1993.
If Liz Leidy Arsenault isn't the friendliest woman you've ever met in your life, then you just haven't met her yet. Liz refuses to do anything but smile, and if there was a hint of sadness at the demise of her father's store, she kept it to herself.
Which isn't to say there weren't plenty of tears flowing as several hundred patrons, friends, and even passers by, stopped into the John Leidy shop one more time to both pay their respects, and hopefully snatch up one last elegant plate, cup, ornament, or piece of crystal, to help keep alive any spark of memory from the little store on East Liberty Street that they all loved so much.
As a testament to John Leidy, all of his children, not just Liz, were there to bid adieu to the store. His sons John and Peter, and daughters Ellen and Mary, joined Liz and their mother, Ann, to meet and greet all those who came.
It's been a tough stretch for Liz, starting in 2006, when half of the shop closed due to the sagging business climate, and ending Sunday, when a combination of the changing times and the economic downturn made it all but impossible for the shop to remain viable.
It wasn't an easy decision for Liz to close the store, one that I'm sure cost her and her siblings several nights of lost sleep, but she had no idea how tough it was going to be on her store's loyal customers.
"I've become everyone's therapist." Liz said, noting that every day since she announced the store was going to close a little more than a month ago, patrons have been pouring in asking her "what are we going to do?"
"I feel sorry for the older folks," she said, "because this (the store closing) really makes them feel old."
As one despondent customer put it, "This was the only place I could go to find such special items … and now it's not going to be here."
But worse yet was the daily barrage of customers asking Liz what she "was going to do," or the false confidence they tried to instill in her by assuring her that no matter what her next endeavor, it was sure to be a huge success.
The gestures were nice and heartfelt, but as Liz put it, "I don't know what I'm going to do."
None of that mattered on Sunday. Not the uncertain future. Not the amazing past. The only thing that mattered was the here and now - the nieces and nephews, the brothers and sisters, the long-time loyal customers, and the even longer-time loyal employees. This day was for them. A closure of sorts, or at least a memorial service with really, really nice table settings for sale.
Bagpipes played. People laughed. People cried. Peter and Ellen sang a medley of songs with John Leidy inspired lyrics to tunes ranging from "These Are a Few of My Favorite Things" to "The Beverly Hillbillies."
It was all fun and good until Fred Sleator, husband of employee Lyn Sleator, who worked at the shop for 41 years, walked out the front door with a ladder in hand, and started taking down the letters J o h n L e i d y one by one from above the main display window, until all that was left was a shadow of each letter.
The finality of it all was too much for Ellen, who cried as she hugged her niece Hannah, as they gazed at the store front, Hannah still clutching the letter "h" handed to her moments earlier by Sleator.
John sat inside the store, looking out the front window with an expressionless face. Mary and Peter milled about and took photos as Ann clutched a picture of her late husband taken off the wall inside the store. And Liz Leidy Aresenault did what she does best - she smiled.
The end of an era had come, and it was happy, and it was sad - and it was everything in between. And you knew it signaled much more than that. And you knew it was important, because you knew things would never be the same.
Lon Horwedel is a photojournalist with AnnArbor.com. You may contact him at lonhorwedel@annarbor.com.