Posted on
Sat, Feb 12, 2011 : 5:50 a.m.
The Gown Shop wedding boutique opens in downtown Ann Arbor
By Lizzy Alfs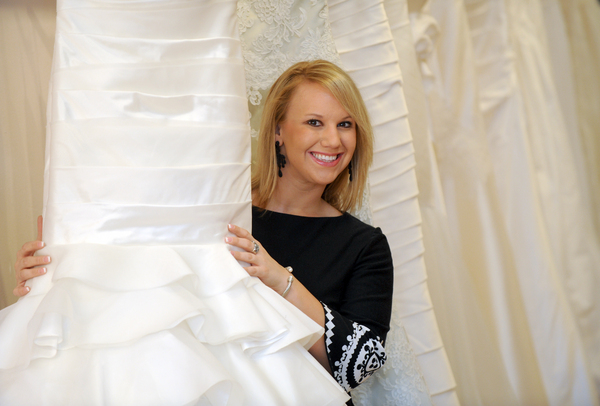 Lon Horwedel | AnnArbor.com
Thanks to the opening of The Gown Shop in downtown Ann Arbor, brides-to-be may not have to look any further than Main Street for their perfect wedding dress.
The boutique, located at 122 S. Main St. in the Goodyear Building, opened for business on Feb. 1 and was completely booked over the weekend, said owner Stacy Fork.
Fork credits the store's presence on Main Street, which has had a visible storefront since the beginning of January, for many of her appointments.
"It's really just been a lot of people seeing the storefront and a lot of word of mouth," Fork said.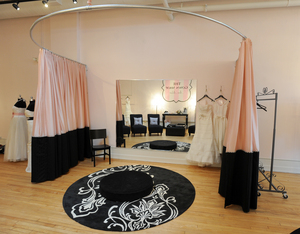 Lon Horwedel | AnnArbor.com
Fork said Shaffran Companies Ltd. worked with her to find the Main Street location in the fall of 2010, which includes a small space at street-level and a larger loft area on the third floor.
"I had a very specific look that I wanted for this store," Fork said. "I wanted it to be open and loft-like. I couldn't put my full business in the space downstairs, so I also signed the third floor space."
Fork, who is originally from Ohio, said she opened the store on Main Street because she thought her product would do well in Ann Arbor.
"I thought the caliber and the price point of the gowns I wanted to sell would do better in Ann Arbor," Fork said. "The store caters a little bit more to the Ann Arbor dynamic."
The Gown Shop requires an appointment to try on gowns, and Fork said she closes the entire store when a customer has an appointment. She said this service aspect of her boutique sets her apart from other bridal stores in the area.
"This shop is really intimate," Fork said. "The bride and the people she brings are the only people in the store, and she tries on any dress she wants. It's definitely different than what people are used to, which I'm hoping people appreciate."
According to The Gown Shop website, the store specializes in "simple yet elegant wedding gowns." Fork said each gown is custom made and custom ordered, and range from $1,000 to $4,500. She said the nontraditional, tea-length gowns are in the lower price range.
Fork owns and operates the store alone, including seeking out designers and choosing the dresses she wants in the store. While Fork is not a designer, she said the gowns she carries are not sold at other stores in Michigan.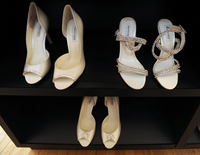 Lon Horwedel | AnnArbor.com
"I am exclusive with all of my designers," Fork said. "This is the only store in Michigan that has these dresses."
Along with providing a unique product in an intimate setting, Fork said just being a part of a woman's special moment is "amazing."
"This is a passion of mine, just working with the brides," Fork said. "I'm a people person. I'm a sucker for a good love story."
Lizzy Alfs is a freelance reporter for AnnArbor.com. Reach the business desk at business@annarbor.com or 734-623-2586.