Posted on
Mon, Feb 4, 2013 : 6:13 p.m.
The Lunch Room signs deal to open vegan restaurant in Ann Arbor's Kerrytown
By Lizzy Alfs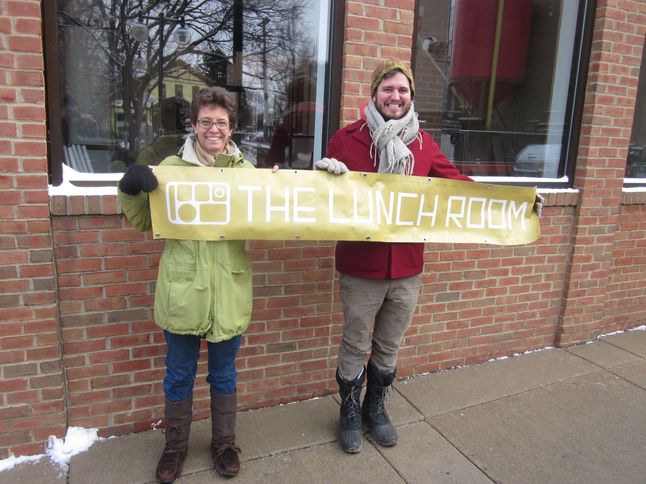 Courtesy of The Lunch Room
It's official: Vegan food cart
The Lunch Room
is opening a permanent restaurant in Ann Arbor's Kerrytown neighborhood.
At an event on Monday night, owners Phillis Engelbert and Joel Panozzo announced to a group of about 100 people that they signed a lease for the former Yamato restaurant space at 403 N. Fifth Ave. in the Kerrytown Market & Shops. It's located between Everyday Wines and Zingerman's Events.
"We are very excited about this space," Engelbert told AnnArbor.com. "Kerrytown is among Ann Arbor's hippest neighborhoods. We love the access to fresh produce we'll have next door at the (Ann Arbor) Farmers Market."
"Opening a restaurant has been a long time dream of ours," Panozzo added.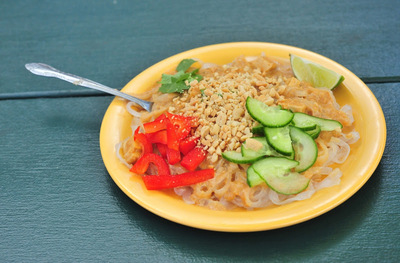 Ryan J. Stanton | AnnArbor.com
The Lunch Room worked with Ann Arbor's Trillium Real Estate to find the space.
As vegan foodies and next-door-neighbors, Engelbert and Panozzo worked their way from cooking for private parties in Ann Arbor and Ypsilanti, to owning a food cart at Mark's Carts outdoor food courtyard, to eventually owning their own restaurant.
As a food vendor at Mark's Carts, The Lunch Room garnered a loyal following with its popular barbecue tofu sandwiches, pad Thai, bahn mi and vegan cookies. Its plant-based menu items are made from scratch using locally sourced food products.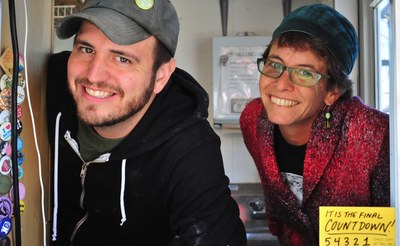 Ryan J. Stanton | AnnArbor.com
"Building a community through food has always been our motivation," Panozzo said.
The Lunch Room restaurant is expected to open in June, and it will serve breakfast, lunch, and dinner, along with weekend brunches.
According to a new release, menu items will include: veggie burgers, tacos, roasted root veggie pasties, tempeh reubens, udon noodle seitan stirfry, breakfast burritos, French toast, cauliflower-spinach frittata, potato pancakes, and gluten-free items, among others. Rotating specials will include pizza, paella, veggie sushi and panang curry. Fresh-squeezed fruit juices, smoothies, root beer floats, Boston coolers and ice cream sundaes also will be available.
The restaurant will have a display case with The Lunch Room's cookies, pies and pastries.
After Yamato Japanese restaurant closed in early 2012, Kerrytown Market & Shops manager Karen Farmer said she "patiently waited for the right fit" for the space.
"(We) feel we've got that with Joel and Phillis," Farmer wrote in a statement. "Their wonderful food and positive energy will make them a great addition to our unique collection of local businesses."
Renovations will incorporate "elements of indoors and outdoors to enhance the dining experience," the release says. Ann Arbor's Synecdoche is designing the space with plant artist Andy Sell.
Watch the video of The Lunch Room's restaurant announcement below.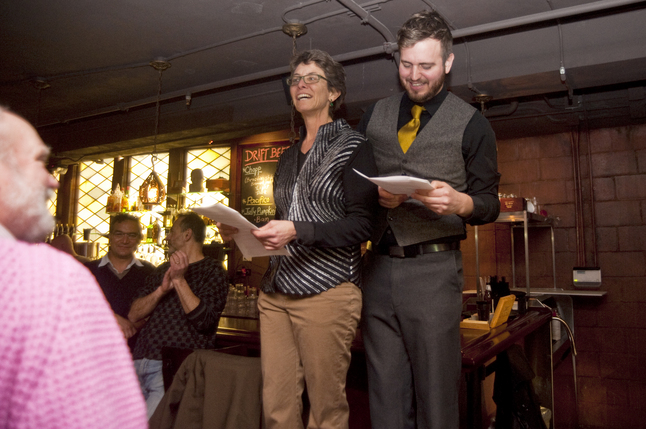 Joseph Tobianski | AnnArbor.com
Lizzy Alfs is a business reporter for AnnArbor.com. Reach her at 734-623-2584 or email her at lizzyalfs@annarbor.com. Follow her on Twitter at http://twitter.com/lizzyalfs.