Posted on
Mon, Feb 4, 2013 : 5:59 a.m.
The Lunch Room vegan food cart to announce restaurant location on Monday
By Lizzy Alfs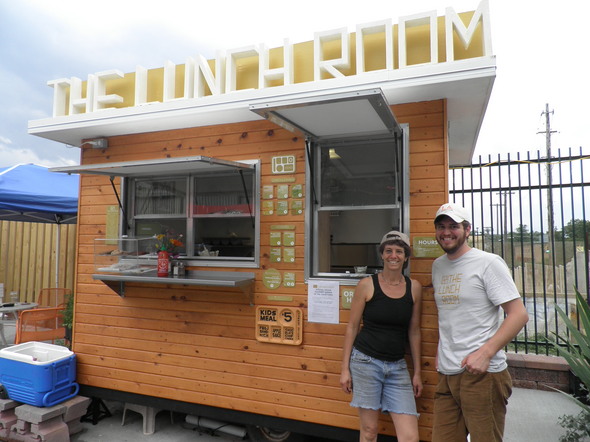 Lizzy Alfs | AnnArbor.com file photo
Vegan food cart The Lunch Room could be bringing its popular barbecue tofu sandwiches and Mexican hot chocolate cookies to Ann Arbor year-round.
Owners Phillis Engelbert and Joel Panozzo announced in an email to customers and on their Facebook on Saturday that they've secured a restaurant space.
The duo has operated The Lunch Room at downtown Ann Arbor's outdoor food courtyard Mark's Carts for the past two seasons.
They posted a picture on Facebook of them signing a lease for the space — although they have yet to disclose the location.
"The Lunch Room has a restaurant announcement," the email says. "You can hear details first at a special Happy Hour event."
With 300 vegan cookies in tow, the duo plans to reveal the details of the new restaurant at 6 p.m. on Monday, Feb. 4 at downtown Ann Arbor's Cafe Habana. Socializing starts at 5:30 p.m.
"Drinks on you, cookies on us!" the email says.
Downtown Home and Garden owner Mark Hodesh launched Mark's Carts in May 2011 on a 2,700-square-foot parcel of land behind his retail store. The courtyard has already served as a springboard for food vendor eat, which opened a restaurant on Packard in September 2011.
Next-door-neighbors and vegan foodies Engelbert and Panozzo started hosting private group meals in Ann Arbor and Ypsilanti in 2010. They later launched a Kickstarter campaign to help them open their food cart.
Lizzy Alfs is a business reporter for AnnArbor.com. Reach her at 734-623-2584 or email her at lizzyalfs@annarbor.com. Follow her on Twitter at http://twitter.com/lizzyalfs.