Posted on
Thu, May 12, 2011 : 5:55 a.m.
New Ann Arbor restaurant The Ravens Club to open Friday on Main Street in ex-Full Moon bar
By Lizzy Alfs
Melanie Maxwell | AnnArbor.com
Although a sign on the window at
The Ravens Club
in downtown Ann Arbor announced the restaurant would open in March, and then April, and then May, the owners said this week that Friday would be the official launch.
The restaurant, located at 207 S. Main, in half of the ex-Full Moon space, had two soft openings this week and is planning a benefit today for the Wild Swan Theater — a nonprofit that hosts plays for children.
Jeff Paquin, co-owner of the The Ravens Club, said there was a delay because the space needed more work than he anticipated and he wanted to "do it right."
"We wanted our opening to be solid and so we combed over every detail and took our time," Paquin said. "It has been painful financially, but I think in the long run it will be appreciated."
With a Prohibition-era theme, The Ravens Club will feature jazz music, old-fashioned cocktails and throwback recipes, said Paquin.
"Our chef is using recipes from the late 1800s and early 1900s," Paquin said. "We want our menu to remind empty nesters of grandma's cooking. And it is something unique for the younger crowd to try."
Co-owner Chris Pawlicki said the menu, which includes items like beet cured salmon Nicoise and rabbit confit, is made largely of ingredients from local farms. The cocktails will also be made with fresh juices and homemade ingredients, he said.
Aside from the dinner menu, the restaurant will serve small plates and signature cocktails from 10 p.m. to 1 a.m., according to The Ravens Club website.
Pawlicki, who also owns Old Town Tavern on West Liberty, said The Ravens Club would have a different feel, and a more expensive menu, than Old Town.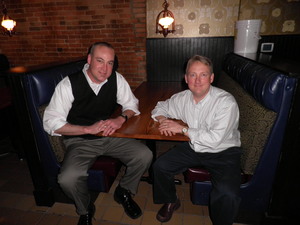 Lizzy Alfs | AnnArbor.com
"Old Town is a townie bar," Pawlicki said. "We still want a nice, comfortable feel at The Ravens Club, but we will attract a different clientele. We can't just do burgers and beer here and have the space pay for itself."
Paquin agreed, and said that although Main and Liberty streets are close, they are "two vastly different areas."
He said the restaurant's price point would be somewhere between The Chop House and Old Town.
As a longtime Ann Arbor resident, Pawlicki said he's happy to establish a new business in the space that was an Ann Arbor staple for years as the Full Moon, which became a destination bar in the 1980s and launched what today is downtown's thriving nightlife scene.
"Although The Ravens Club will be different, people are going to be coming in here and reminiscing about coming into the Full Moon forever ago," Pawlicki said.
Paquin said he has been doing research on the history of the building, and his goal is to get that information on The Ravens Club menu.
"I want people to know what this building looked like in the early 1900s," Paquin said. "It's got such a history."
Lizzy Alfs is a business reporter for AnnArbor.com. Reach her at or 734-623-2584 or at lizzyalfs@annarbor.com. Follow her on Twitter at http://twitter.com/lizzyalfs.