Posted on
Mon, Jul 19, 2010 : 5:41 a.m.
This & That, planning to open on Liberty Street Monday, aims to offer something for everyone
By James Briggs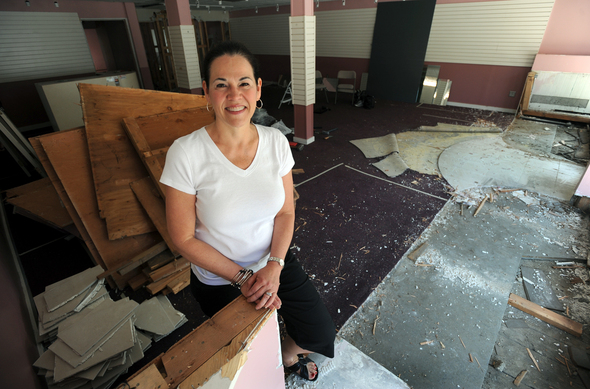 Lon Horwedel | AnnArbor.com
If you've ever played the board game Candy Land, well, now you can live it.
For several days, brown paper has covered the storefront windows at 611 E. Liberty St. Soon, though — Monday if all goes well —Â co-owners Brian and Andrea Graef will unveil This & That, a snack paradise offering nearly every kind of indulgence imaginable.
This & That, which has moved into the former 4 Seasons Perfume and Lingerie, isn't quite a candy store — it also includes healthy snacks — and it's certainly not a restaurant. But it includes snack food to satisfy anyone looking for a sugary treat, or an afternoon pick-me-up.
Oh, and it also has a fairy tree and a candy garden.
What can Andrea Graef say? Her granddaughter, 2-year-old Amelia Heard, likes fairies. And so do a lot of other people, Graef is betting.
"Mostly, I just think it's a great destination for families," she said. "So far, we've had really good response to what's going on here (from curious folks who've stopped by). They were happy it wasn't another restaurant."
While there's still much work to do, This & That made a big push to open in time for the Ann Arbor Art Fairs. "What's done is done, and then we'll be tweaking it constantly," Graef said.
The family —Â and it is a family business, also including the Graefs' daughter, Renee Heard, and son-in-law, Leroy Heard —Â named it This & That, because they plan to offer something for everyone. For those who like just about everything, there will be sensory overload when walking into the store and seeing candy necklaces, nuts and everything between.
For college students, This & That will pack jolting treats like Crackheads candy that comes with caffeine equal to six cups of coffee.
This & That's suppliers include a dozen or so Michigan companies, like Sweetriot, a producer of low-calorie chocolate.
The family came up with This & That during a dinner in the spring. The Graefs wanted to start a business, and knew this was it once they began discussing it.
"All our ideas came together, and we decided to just go," Andrea Graef said.
And rather than crossing out some ideas, This & That made room for all of them.
"We came up with the concept because we wanted to provide the Ann Arbor community with a destination experience for people of all ages," Renee Heard said. "We know Ann Arbor is a college town. We also know there are a lot of young families. There are people who have lived here for 40, 50, 60 years. So, we came up with the idea of candy and snacks."
The store will cater to folks of any age, putting together sections of candy favorites from each decade. This & That also will provide delivery.
"Let's say you're working down the street and you realize you forgot your favorite snack in the afternoon, or you're really craving some Warheads or some jelly beans," Heard said. "You can call us up, and we'll bring you however many you want to your office."
And, of course, the store will be geared toward children with a television showing animated films, candy-themed story hours and a fantasy-themed setting.
For adults, the store will offer candy hour —Â like happy hour, but minus the alcohol —Â and gift bags and baskets for multiple occasions.
"We wanted families and young kids to be able to come in and get really excited, and parents to be able to laugh with their kids and have an affordable experience that brings back pleasant memories," Heard said.