Posted on
Sat, Mar 12, 2011 : 5:55 a.m.
Thomson Reuters' growth makes firm Ann Arbor area's second largest private sector employer
By Nathan Bomey
Here's a telling way to reflect Thomson Reuters' influence in the Ann Arbor region's economy: The information services giant employs three times as many workers in Washtenaw County as Ann Arbor-based book store chain Borders.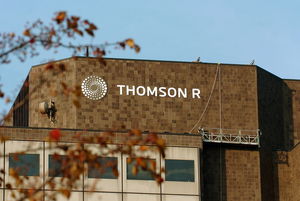 File photo | AnnArbor.com
Bolstered by a stable base of clients in the health care and accounting industries, Thomson Reuters has quietly turned into the county's second largest private employer,
according to a recent AnnArbor.com analysis
. The firm trails only
Ford Motor Co.
-controlled
Automotive Components Holdings
, which has 2,000 employees in Saline and 400 in Milan.
As the Ann Arbor region's economy enters a period of sustained job growth forecasted by University of Michigan economists, Thomson Reuters is "bullish" about its own growth prospects, said Jon Newpol, executive vice president in the firm's health care business.
"We feel very excited about the opportunities for the business," Newpol said in a rare interview about the company's local presence. "We feel like we're in growth segments."
Executives declined to offer specific hiring projections, but the company's resiliency during the global economic crisis underscores the firm's stability.
The firm said its health care business employs between 800 and 900 workers at the former 777 building on Eisenhower Parkway. The company's tax and accounting software business employs between 900 and 1,000 people at its division in Dexter.
Overall, that means the company today has anywhere from 50 to 250 more employees in Washtenaw County than it had at the height of the financial crisis in late 2008.
The company now employs close to the same number of workers that pharmaceutical giant Pfizer had here when it announced in 2007 that it would shutter its 2 million-square-foot Ann Arbor campus, displacing more than 2,100 employees.
Meanwhile, the company plans to add a legal services unit to its Ann Arbor operation, according to online job postings circulating in the legal community. Executives declined to discuss that operation, which would reportedly be part of the firm's Pangea3 unit, which Thomson Reuters acquired in 2010.
The company's health care and science unit reported 7 percent revenue growth in 2010, compared to 4 percent overall sales growth for the entire corporation.
Revenue for the division that consults with health care payers — that is, the insurance industry, Medicare and Medicaid — rose 13 percent in 2010. Revenue for the tax and accounting division rose 7 percent in 2010. The "workflow and service solutions" unit, which includes much of the Dexter office, reported 12 percent growth.
Jon Baron, president of Thomson Reuters' tax and accounting business in the Americas, said about 30 percent of his division's local hires are recent college graduates from this area. The company's services include software that helps clients navigate tax code.
In recent years, "we have not had a great deal of difficulty" hiring talented local people, Baron said. But, he said, "I anticipate that the area will rebound to some degree and frankly we'll have to spread out a little bit more in terms of our local hiring."
Baron said there are positive signs in the national accounting industry suggesting that the economy is slowing gaining momentum. That would boost demand for Thomson Reuters' services.
Meanwhile, Thomson Reuters' health care business is positioned to benefit from national health care reform. The company's consultants help clients reduce fraud, waste, abuse and inefficiencies in health care.
The company's key clients include state governments trying to reduce their Medicaid costs, for example, a service that is sure to be in high demand as states seek ways to slow the steep rise in health care costs. The firm also helps clients select health care plans and identify ways to improve and streamline health care delivery.
Newpol said the company looks to hire experts on specific segments of the health care industry, including people familiar with the flow of money involving insurance companies, the government, health care providers and patients.
"We look for good people wherever we can bring them in, but we do continue to have a heavy emphasis on the Washtenaw County area" for hiring, Newpol said. "Because of the talent pool and the universities, we are able to develop some significantly attractive hires for the organization."
Contact AnnArbor.com's Nathan Bomey at (734) 623-2587 or nathanbomey@annarbor.com. You can also follow him on Twitter or subscribe to AnnArbor.com's newsletters.