Posted on
Thu, Sep 23, 2010 : 6 a.m.
Three Ann Arbor firms form MeadowLark Energy to provide energy-efficient home renovation services
By Nathan Bomey
Homeowners hoping to get a comprehensive energy audit to address how they can make their home more energy efficient often must visit several service providers to address their needs.
Sometimes they give up altogether due to the complexity of the process.
That's why three Ann Arbor businesses have joined together to form a new company called MeadowLark Energy, which is offering building performance auditing and retrofitting services. The company's goal is to be a one-stop-shop for homeowners looking for help.
MeadowLark Builders, an Ann Arbor-based contractor, formed the company along with Arbor Insulation and BuildScan Thermography. Together, the new company has about 20 employees and is actively hiring to support its energy-efficient home retrofitting service.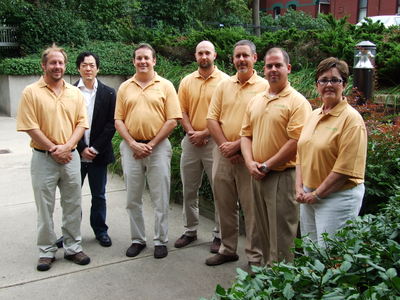 Nathan Bomey | AnnArbor.com
"Building a house as a system requires a company that operates as a system," said Doug Selby, chief executive officer of MeadowLark Builders and chief operating officer of MeadowLark Energy. "This is a spinoff business that takes the nuts and bolts out of these three businesses and combines them into one."
Selby said the company has been conducting about half-a-dozen energy retrofit projects on local homes weekly since launching a few weeks ago.
He said he expects demand for energy retrofitting renovation to kick up as awareness grows about the value of investing in energy-efficient HVAC systems, insulation, windows, electrical systems, plumbing and other upgrades.
The power bill is "the one variable cost that people can control or try to mitigate," said Christopher Laycock, general manager of MeadlowLark Energy and former co-owner of BuildScan with his mother, Lynda.
In 2008, the average Michigan household spent $71.58 a month for electricity, according to the U.S. Energy Information Administration.
More than $13 billion energy leaks from homes on an annual basis, according to the federal government's Corporation for National & Community Service.
U.S. residential electricity usage in 2008 (Source: U.S. Energy Information Administration)

Space Cooling: 16.5 percent
Lighting: 15.4 percent
Water heating: 9.2 percent
Space heating: 8.9 percent
Refrigeration: 8.0 percent
TV and set-top Boxes: 7.3 percent
Dryers: 5.6 percent
Computers and other digital devices: 3.6 percent
Cooking: 2.2 percent
Dishwashers: 2.0 percent
Freezers: 1.7 percent
Clothes washers: 0.7 percent
Other: 18.8 percent

Selby identified Masco's WellHome service as MeadowLark's chief competitor in Michigan. But he said the Midwest is largely devoid of home performance contractors that can provide all the services a homeowner needs to complete a retrofit project.
As MeadowLark enters the home performance contracting industry, government incentives and financing are becoming increasingly common as an option for homeowners hoping to renovate.
MeadowLark hopes to qualify as an authorized contractor in the Michigan Saves Home Energy Loan Program, which the state launched with a $30 million grant from the federal economic stimulus package. Michigan Saves provides loans of $1,000 to $12,500 at fixed interest rate of no more than 7 percent to homeowners who are conducting energy-efficient upgrades.
"What you save on your energy should almost pay your monthly bill for the loan," Lynda Laycock said. "It's a really good deal."
Homes and commercial buildings accounted for about 39 percent of U.S. energy usage in 2008, according to the Pew Center on Global Climate Change.
MeadlowLark also has BPI Gold Star accreditation as a contracting company, which means the firm can "implement energy efficiency improvement measures" under the federal government's $6 billion energy-efficient Home Star renovation program.

Selby said MeadowLark would place a heavy emphasis on helping homeowners navigate the tax incentives and regulatory bureaucracy that goes hand-in-hand with conducting an energy-efficient renovation.
"It doesn't do much good if we provide all these great solutions and don't help them" navigate the incentives process, Selby said. "It can be a little byzantine if you don't know the process."
Contact AnnArbor.com's Nathan Bomey at (734) 623-2587 or nathanbomey@annarbor.com. You can also follow him on Twitter or subscribe to AnnArbor.com's newsletters.