Posted on
Tue, Jul 31, 2012 : 5:58 a.m.
Tim Hortons signs deal to open store near University of Michigan campus
By Lizzy Alfs
Tim Hortons' signature donuts and coffee are hitting the University of Michigan campus this fall when a new store opens on South University Avenue.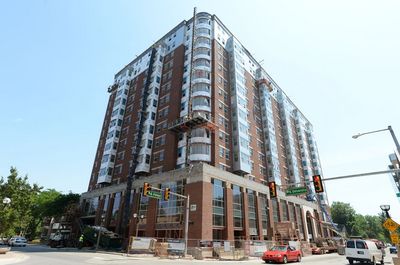 Melanie Maxwell | AnnArbor.com
JJ Smith
, executive vice president of development and construction for
Landmark
property owner
Campus Acquisitions
, said the Canadian coffee shop chain is the third tenant to sign a lease for the first-floor of the under-construction building.
Tim Hortons joins No Thai! and 7-Eleven at Landmark — which is situated on the corner of South University and South Forest.
The 600-bed development is expected to open this fall when U-M's fall semester begins.
Smith said the coffee shop — which has been targeting the Ann Arbor area the past two years — will occupy about 1,570 square feet with frontage along South University, and the store should open around the end of September.
He said a deal is almost finalized for the remaining 3,000-square-foot space on the corner of the building. The retail spaces are listed with Colliers International's Ann Arbor office for an annual $45-per-square-foot.
"This specific tenant mix was chosen for the amenity that we believe it will bring to Landmark residents, as well as the surrounding community, and we believe the corner tenant will add to that amenity," Smith said via email.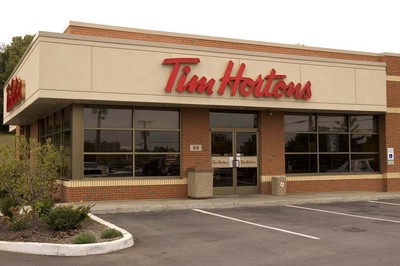 Photo courtesy of Tim Hortons
In Aug. 2011, Tim Hortons signed deals to open two stores on long-vacant sites in Ann Arbor.
The first is the site of the former Enzo's at the northeast corner of State and Ellsworth Roads. Ann Arbor City Council voted in April to approve the store's site plan, which calls to demolish the existing 9,558-square-foot building and construct a 1,953-square-foot restaurant with drive-thru facilities.
The second site is in Maple Village at the site of the former Golden Chef Restaurant, which was destroyed by fire in 2006.
City planner Matt Kowalski said no site plans have been submitted yet for this location, and a Tim Hortons representative could not immediately be reached for comment.
In March, the company considered opening a store in the lab coffee shop space in downtown Ann Arbor, but the deal later unraveled.
Tim Hortons also has a marketing deal with the University of Michigan, preserving its exposure in the Ann Arbor market.
As of April 1, Tim Hortons operated 4,042 company-operated and franchised stores, including existing stores on Michigan Avenue in Ypsilanti Township and Michigan Avenue in Saline.
The company employs 2,288 full-time workers, and was valued at $8.29 billion based on a Monday stock price of $53.21.
Lizzy Alfs is a business reporter for AnnArbor.com. Reach her at 734-623-2584 or email her at lizzyalfs@annarbor.com. Follow her on Twitter at http://twitter.com/lizzyalfs.