Posted on
Sun, Apr 15, 2012 : 3 p.m.
Tim Hortons site plans on Ann Arbor City Council's agenda Monday night
By Lizzy Alfs
Ann Arbor City Council will consider a request from Tim Hortons to build a restaurant at the site of the former Enzo's Sports Bar on South State Street at its meeting Monday night.
The site plan, which was submitted in September 2011, calls to demolish the existing 9,558-square-foot building and construct a 1,953-square-foot Tim Hortons drive-through, with both interior and exterior seating for dining.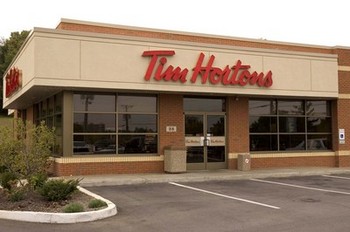 Photo courtesy of Tim Hortons
Plans include a parking lot with 21 parking spaces and four bicycle hoops. The plans will leave the property owner,
First Martin Corporation
, with room to build a second retail building on the site.
The plans went to the Ann Arbor Planning Commission in early March and staff is recommending approval.
Tim Hortons also has announced plans to open a store in Maple Village on the site of the former Golden Chef Restaurant, which was destroyed by fire in 2006. Site plans for that location have not been submitted to the city yet.
Eric Ramsey, real estate manager for Tim Hortons, said in a previous report the company is choosing from franchise applicants to operate the stores.
The Oakville, Ontario-based chain has more than 3,800 stores, including stores on Michigan Avenue in Ypsilanti Township and Michigan Avenue in Saline.
Lizzy Alfs is a business reporter for AnnArbor.com. Reach her at 734-623-2584 or email her at lizzyalfs@annarbor.com. Follow her on Twitter at http://twitter.com/lizzyalfs.